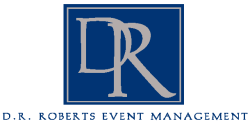 For several years, Deanna Roberts has contributed unselfishly, and with compassion, to our event planning, fundraising, partner-building and sponsorship efforts, as well as other areas that significantly benefit the Lymphoma Research Foundation.
OAKLAND, CA (PRWEB) September 19, 2012
September 15, 1997, San Francisco Bay Area resident and entrepreneur Deanna Roberts officially established her new event-planning enterprise—D. R. Roberts Event Management, Inc. Roberts' well-regarded company is widely known for meticulously conceptualizing, planning, organizing and executing high-end events throughout the Bay Area and around the country. This month, Roberts not only celebrates her company's 15th successful year of fulfilling clients' dreams and exceeding their expectations. She is also excited to announce the relocation of her business office from San Leandro to the prominent Colonial Revival-style Raymond House (655 13th Street), located inside historic and enchanting Preservation Park, downtown Oakland. The celebrated entrepreneur and community contributor recently learned that the Lymphoma Research Foundation (LRF) will honor her with its 2012 "Distinguished Service Award" during the organization's annual celebratory gala to take place Saturday, Oct. 24 at San Francisco's Westin St. Francis Hotel.
Preservation Park is an eye-catching re-creation of a Victorian neighborhood where businesses are now housed in what were residential structures. Raymond House (constructed 1895-96) was originally owned by William J. Raymond, a physics professor at the University of California, which was then located in the immediate area. The park's ambience makes it an exceptional venue for indoor and outdoor weddings and events; a charming venue that Roberts has often utilized to host clients' affairs.
D. R. Roberts Event Management has beat the small business failure rate odds, and continues to thrive while expertly planning and producing private, corporate and public affairs from beginning-to-end—from concept-to-conclusion. To the delight of her clients, Roberts showcases her organizational aptitude and creative talents at every opportunity, and on every project.
Among the numerous elegant, professional and fun events that D. R. Roberts Event Management has produced throughout the United States are: art auctions, conferences, corporate parties, cultural festivals, fundraising galas, group travel tours, health fairs, sporting events, theatrical performances, and, of course, many memorable weddings.
AutoGrid (a Silicon Valley start-up), Nike, Budweiser, City of Oakland, Dental Health Foundation, Congresswomen Barbara Lee & Elihu Harris Lecture Series, Oakland Raiders, Lymphoma Research Foundation, San Francisco mayor's office, KISS 98.1 Renel in the Morning, East Oakland Youth Development Center, Gatorade, and 100 Black Men of the Bay Area, Inc., are also among the numerous satisfied clientele that Roberts has served across the U.S. throughout her company's 15 years of extraordinary event planning and continuous professional growth.
Dedicated to her community and an avid contributor to worthy causes, Roberts has often been recognized for her generous donations of time and service. "The Lymphoma Research Foundation is grateful to Deanna for her many contributions to and advocacy on behalf of our organization," commented Laura Hessenflow, LRF California Chapter Regional Manager. For several years, Deanna has contributed unselfishly, and with compassion, to our event planning, fundraising, partner-building and sponsorship efforts, as well as other areas that significantly benefit the Lymphoma Research Foundation. She was the first person we considered to bestow this year's LRF Distinguished Service Award."
"GOD is GOOD! This is the first thing that comes to mind when I'm asked how I feel being in business for 15 years," said Roberts. "As I reflect back over the many years growing my business, I am thankful to all of the clients that gave me a chance and trusted me to help bring their respective visions to life." She continued, "It's been exciting being a part of life changing events and continuously working in an ever changing industry."
D. R. Roberts Event Management Inc.
Deanna Roberts, President & CEO
Preservation Park
655 13th Street, Suite 304, Oakland, CA 94612
P 510.654.5335 | F 510.654.5561
http://www.RobertsEvents.com | droberts(at)robertsevents(dot)com
ABOUT DEANNA ROBERTS
Deanna Roberts is founding CEO of D. R. Roberts Event Management Inc., which has grown in profitability since its inception in 1997. She continues to work in the day-to-day operations of event planning with a variety of clients around the country. An accomplished athlete, Roberts has competed in six half marathons, one full marathon, and seven triathlons. She served on the Junior Center of Art and Science Board of Directors and the YMCA Urban Services Board of Directors, and is an a active member of Delta Sigma Theta Sorority, Inc. Roberts graduated from the University of California at Berkeley, where she earned a Bachelor of Arts degree in economics. She also completed certificate programs in Sports Marketing at U. C. Berkeley and in Social Media at the University of San Francisco. While at Berkeley, Roberts served as President of the National Association of Black Accountants.
Demonstrating the level of Roberts' expertise, the event planning expert has taught Special Event courses at the University of California at Berkeley extension and San Francisco State University extension. She now also offers an Event Planning internship program for individuals who wish to learn about the industry from a veteran professional.
Roberts has not escaped the attention of the press. Several local and national print and broadcast media have featured her and her company. To learn more about Deanna Roberts, D. R. Roberts Event Management and its array of services, visit http://www.RobertsEvents.com.