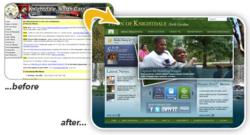 With Vision Internet, we knew the technology was strong and the design would give a unique online identity to our Town.
Knightdale, NC (PRWEB) September 24, 2012
The Town of Knightdale is proud to announce the launch of its recently redesigned website - http://www.knightdalenc.gov.
In an initiative to improve citizen engagement, the Town completely overhauled the website from the inside out. As a result, the once dated site has transformed into a powerful, interactive communications tool.
"The Knightdale website was one of the first municipal websites to be launched in North Carolina, and without any major renovation for over 13 years, it was starting to show," noted Jeff Triezenberg, Knightdale's Senior Planner. "With this new design, it feels like our online outreach has a new beginning."
"The design, layout, and functionality of the website was reconfigured to better serve our citizens. The response to this new design has been overwhelmingly positive from citizens as well as elected officials. It's wonderful to have a modern website to share information and services with the community."
New features of the website include dynamic news and calendar feeds, searchable staff directories, job postings, a convenient "I Want To" menu, and an e-Notifier system which allows citizens to subscribe to direct email updates from the Town.
The new form/surveys tool has lent a big hand to various departments throughout the Town. The Police Department has created a House Check Request Form for citizens to fill out while they are on vacation. With the details captured by the form, the Police are able to more effectively patrol neighborhoods - keeping an extra eye on temporarily vacant houses.
The website is powered by the Vision CMS™ – a government content management system developed by Vision Internet. The CMS is simple to use and allows for multiple staff members to make updates to the website regardless of technological background.
"With Vision Internet, we knew the technology was strong and the design would give a unique online identity to our Town," continued Triezenberg. "The Vision Team was patient and responsive, making the process enjoyable for everyone involved."
Town staff members have truly embraced the new content management system. Each department is actively contributing to their department pages, news stories, calendar events, and more. The department heads review content prior to publishing to maintain a high quality of content.
Please click to request a free website review to learn how to create a successful government website for your community.
To sign up for a free demonstration of visionLive™, Vision Internet's new government CMS, please visit http://www.visioninternet.com/visionlive.
About Vision Internet
Vision Internet is the national leader in government website development with nearly 500 government, non-profit, and education clients across the US and Canada. Over the past 16 years, Vision Internet has been creating industry-defining websites for communities ranging in populations of less than 1,000 residents to more than 5 million. Widely recognized as the government website experts, the company has earned hundreds of prestigious industry awards for its unique websites.