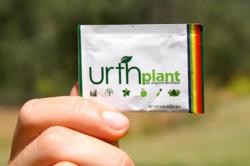 "UrthPlant feeds plants the way nature intended; using millions of beneficial microorganisms that create healthy soil and stunning gardens."
Grass Valley, CA (PRWEB) September 19, 2012
Urth Organic introduces a revolutionary organic fertilizer for homes & gardens called UrthPlant. Just one little packet (the size of a sugar pack) feeds an entire yard & garden (3,000 square feet).
UrthPlant has been used in the agricultural market for years, and is now available in a new formulation for homes & gardens. This powerful fertilizer feeds plant life the way nature intended, all without the use of harmful chemicals or pesticides. Each packet contains millions of living organisms, kelp, and electrolytes that work hard to keep gardens strong, vibrant, and sustainable.
The effectiveness of UrthPlant is dramatic:
-stronger, more vibrant growth
-higher quality fruit, flowers, vegetables
-reduction of harmful insects
-reduction in water usage
-improved nutrient content in soil
-improved root structure & nutrient uptake
-safe for children & pets
-chemical free homes & gardens
"We've taken the 3 most important organic products for soil & plants and combined them into one little packet for easy & affordable gardening," said Eric Starr, one of Urth Organic's founders. "The first are microorganisms. Naturally occurring, plant-based probiotics stimulate beneficial microbial and enzymatic action for balanced soil. The second is kelp. Sea kelp supplies plants with usable nutrients immediately upon foliage application. Last there are electrolytes. Naturally occurring electrolytes from humic substances help fuel plant energy and strengthen immunity."
UrthPlant is OMRI Listed (certified organic), CDFA approved, and has an NPK rating of 1.0-.1-5.5.
Pricing & availability:
UrthPlant is one of the most effective fertilizers on the market, and, at just $35 is also one of the best values as it relates to coverage (each package includes 10 applications, total coverage = 30,000 square feet). UrthPlant can be purchased at UrthOrganic.com and participating home & garden stores.
Urth Organic believes that vibrant, organic gardens should be easy and affordable for everyone. With its dramatic coverage, easy application, and affordable pricing, UrthPlant is a revolutionary product that will inspire home gardening.
Press Info: http://www.urthorganic.com/pages/press-info
Press Contact:
Lew Douglas
(415) 297-2600
Urth Organic
2036 Nevada City Highway #569
Grass Valley, CA 95945
http://www.UrthOrganic.com
888-Y-ORGANIC