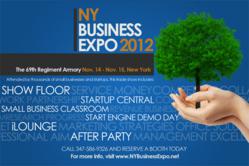 A B2B expo and conference for business owners and startups that is unprecedented in its structure, scale, and style.
New York, NY (PRWEB) September 19, 2012
The NY Business Expo 2012 (In Association with NYEBN), set for November 14 - 15, 2012 at the 69th Regiment Armory in New York City, has announced that its exhibitor list is now available on their site and that several of its exhibitors will be launching new products and services at the show. The NY Business Expo 2012, a premier event for the New York business and technology community, will provide attendees with direct access to resources offered by different components of the show, including the Show Floor, Small Business Classroom, Startup Central, StartEngine Demo Day and an After Hours Party.
The Show Floor at NY Business Expo 2012 will also feature a "Startup Central" area, where venture capitalists and mentors will provide one-on-one coaching sessions for attendees. Separately, Small Business Classroom in breakout rooms will feature more than 25 expert speakers who will lecture on a wide variety of topics in seminar format to help small business owners succeed. An After Hours Networking event will follow the expo on November 15.
"NY Business Expo provides attendees with a great opportunity to learn first-hand from industry experts in small business, venture capital financing and new and emerging technology," said Andrew Wong, CEO of NY Entrepreneurs Business Network, the host of NY Business Expo. "We're very excited that our exhibitors are using NY Business Expo as a unique platform to launch their new products and services this Fall."
The following exhibitors will be launching new products and services at the NY Business Expo:
StartEngine, the LA-based rapid startup accelerator, will use NY Business Expo 2012 as the stage to demo ten new startup companies, including: Hoonto, Enplug, MotionDispatch, oSurv, Outlisten, Overhead.fm, KoKoChe, MyRight, WhereMyDogsAt, and WeLink.
Tekserve - Tekserve's Business Solutions experts will be on site to discuss implementing the latest in Apple and A/V technologies into the enterprise. Tekserve Business Solutions helps CIOs and technology decision-makers integrate Apple into the complex enterprise IT environment and includes Tekserve's renowned Pro A/V rich media production, storage and advisory services. Tekserve will be providing the iPads for attendees to use in the iLounge. And it's one of the iLounge sponsors at NY Business Expo 2012.
PlayFitness.com will showcase its global multi-lingual, virtual, centralized interactive global fitness marketplace. Playfitness.com offers meaningful and long-term engagement with social network integration, personal coaching, health tracking and rewards. The platform boasts a worldwide network of independent, certified personal trainers who ensure 24/7/365 availability - all within the convenience and privacy of the home or office.
VT Enterprise will be launching /db, a unique software product, which automatically creates RESTful API from relational databases. /db makes databases instantly available to authorized mobile, web and enterprise applications and search engines. /db has been the core of Assetcloud, company's customizable solutions for financial industry. /db is available from slashdb.com.
bMobilized will demonstrate automatic website mobilization. The global company offers businesses the ability to instantly and inexpensively convert their desktop website into an HTML5-enabled mobile experience optimized for every device, OS or browser. And at bMobilized, simplicity doesn't come at the expense of flexibility. Using the industry's most advanced set of tools, businesses can engage their growing mobile customer base with a high-quality, fully-branded experience.
Singlebrook will launch WhatCanI.Do at the NY Business Expo. WhatCanI.Do is a product of Singlebrook's startup incubator program. The WhatCanI.Do platform lets non-profit organizations create event or campaign-focused custom-branded mobile donation sites with no upfront costs and low transaction fees.
About NY Business Expo
NY Business Expo 2012 (in Association with NYEBN) is a disruptive and interactive B2B trade show that focuses on showcasing innovative products and services from startups and small businesses in the tri-state area. The event will take place at the 69th Regiment Armory on November 14th and 15th. The show includes five components: Show Floor, Startup Central, Small Business Classroom, After Party, and StartEngine Demo Day. Sign up today to become part of the EXPO experience!