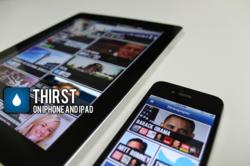 "As the language of social media evolves, Thirst's Natural Language Processing technology enables people to take full advantage of the social and mobile Web." – Anuj Verma, CEO, Thirst Labs

(PRWEB) September 20, 2012
Thirst Labs, provider of the leading mobile application that transforms the Twitter experience, announced that today it will be presenting the Thirst mobile app at GigaOM's Mobilize 2012 LaunchPad event. Thirst Labs will join ten of the mobile industry's most-promising mobile startups for on-stage presentations on Thursday, September 20, 2012 beginning at 5:00 p.m. PST.
During its LaunchPad presentation, Thirst Labs will demonstrate the popular Thirst app, which uses proprietary Natural Language Processing (NLP) technology to search millions of tweets in real time and organize them by topic. Thirst enables users to discover and view shared content – including tweets with abbreviations, slang, misspellings, and missing hash tags – to ensure a complete, current and relevant information stream.
In addition, Thirst Lab's presentation will include an overview of Thirst's unique Featured Newspaper tool. Using a Mobilize 2012 content channel created specially for this presentation, Mobilize attendees, as well as anyone interested in following the latest mobile news and trends, will be able to view relevant real-time content be shared about the event.
Thirst is currently available as a free download for both iPhone and iPad. Thirst Labs has plans to release an Android version of the application, as well as expand its reach beyond Twitter to include shared content from other online sources.
Thirst is the only app that allows users to engage in Twitter on their own time, collecting, reading and responding to tweets that are relevant to them. More than 340 million tweets are posted per day, and an estimated 55% of Twitter users share links. However, 70% of tweets receive no response from followers, and updates are easily missed if users are not constantly connected to Twitter. To solve this problem, Thirst transforms information from Twitter and other social channels into an organized, relevant information stream so users can stay up to date on the content they care about.
Quotes:
"Not only has the sheer volume of online content reached massive proportions, but the way people share it has become less uniform and harder to search. As the language of social media evolves, Thirst's Natural Language Processing technology enables people to take full advantage of the social and mobile Web." – Anuj Verma, CEO, Thirst Labs
"Most people don't watch their Twitter streams constantly, so often important updates and links to relevant information are missed. Thirst finds, filters, and saves all the Tweets that matter to users, letting people engage with Twitter their own way, on their own time." – Jonathan Ebinger, General Partner, BlueRun Ventures
Resources:
Download Thirst app
Thirst Labs Images and Screen Shots
About Thirst Labs
Thirst Labs transforms the Twitter experience, turning Twitter into an organized, relevant information stream. Thirst Labs was founded by Anuj Verma and Kunal Modi, UC Berkeley graduates specializing in UI, UX, algorithms and architecture. Winner of first prize at the 2012 SXSW Accelerator Competition in the social category, the company's investors include BlueRun Ventures, Steve Newcomb, and Jason Krikorian. Thirst Labs is headquartered in San Francisco, Calif. For more information, visit thirst.co.