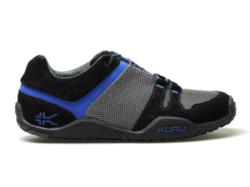 What we have found at KURU is that people are way more likely to stay active when wearing good, comfortable shoes
Salt Lake City, UT (PRWEB) September 20, 2012
In light of a recent study performed at the University of California at San Diego finding activity levels in teenagers significantly decreasing at puberty, KURU Footwear encourages parents to get active and exercise regularly with their children to maintain whole body health and especially foot health. The study, conducted by Dr. Philip Nader, professor emeritus in the department of pediatrics at the University of California at San Diego, found that activity levels in teenagers decrease. At age 13, girls generally drop below the recommended 60 minutes of exercise a day. Boys dropped below 60 minutes at 14.7 years old. By age 15, teens exercise for only 49 minutes on weekdays and for 35 minutes on weekends.
As teenagers become less active their likelihood to develop obesity, and the health problems associated with obesity, increases. One of the most prominent health problems due to a vicious cycle of inactivity can be foot problems. Excess weight puts extra pressure on the muscles and tendons of the feet and legs and can result in pain. When people are in pain, they are less likely to move – and the cycle continues downward.
"There are a lot of things that parents can do to get the whole family moving and more active," said KURU GURU Rob Romero. "They can turn off the TV and the computer. They can create a standard of activity in their homes by being active themselves. What we have found at KURU is that people are way more likely to stay active when wearing good, comfortable shoes."
Many of the shoes worn today – especially flip flops, slip-ons and ballet flats – do not provide adequate support to the wearer's heel and arch. When the heel and arch are not supported, the health of the foot can deteriorate.
KURU shoes were developed with input from medical experts and foot specialists to maintain the health of the foot. The KuruSole™ chassis is designed to properly align the heel. While other shoes are flat, KuruSole™ offers a deep heel pocket that cradles the heel and adapts to the shape of the feet.
ABOUT KURU:
KURU Footwear is a fast growing, web-driven footwear brand that is obsessed with creating the most comfortable shoes. To this aim, all KURU shoes feature the unparalleled KuruSole(TM) technology that dynamically adapts to each wearer's unique foot shape for unprecedented support and comfort.