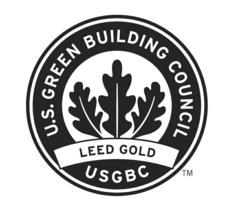 LEED Gold certification is a significant accomplishment for the Susquehanna Health facility development team.
Williamsport, PA (PRWEB) September 19, 2012
Susquehanna Health (SH) recently achieved LEED® certification at the gold level for the Williamsport Regional Medical Center (WRMC) renovation and expansion—part of Project 2012. The LEED rating system, developed by the U.S. Green Building Council (USGBC), is the foremost program for buildings, homes and communities that are designed, constructed, maintained and operated for improved environmental and human health performance.
"LEED Gold certification is a significant accomplishment for the Susquehanna Health facility development team," said President & CEO Steven Johnson. "We are honored by the recognition and grateful to the team of individuals who worked so diligently to ensure the new construction at Williamsport Regional Medical Center would meet these stringent standards, indicating the project's positive impact on our environment and important contribution to the health and well being of our community. He further noted, "When coupled with the on time and under budget delivery of the entire project, this team has truly done a remarkable job!"
SH achieved LEED certification for implementing practical and measurable strategies and solutions aimed at achieving high performance in sustainable site development, water savings, energy efficiency materials selection and indoor environmental quality. WRMC is the first and only hospital of more than 200,000 square feet to be certified under the LEED-NC 2009 rating system. This recognition is significant because the new requirements are more stringent than previous rating systems, particularly in the area of energy and water conservation.
"This certification milestone would not have been possible without the leadership and guidance of L.F. Driscoll, Stantec and The Sheward Partnership," said SH Vice President of Facility Development Rita Spangler.
LEED is the foremost program for the design, construction and operation of green buildings. More than 49,000 projects are currently participating in the commercial and institutional LEED rating systems, comprising over eight billion square feet of construction space in 50 states and 120 countries.
"The green building movement offers an unprecedented opportunity to respond to the most important challenges of our time, including global climate change, dependance on non-sustainable and expensive sources of energy and threats to human health," said Rick Fedrizzi, President, CEO & Founding Chair, U.S. Green Building Council. "The work of innovative building projects such as Susquehanna Health's Williamsport Regional Medical Center is a fundamental driving force in the green building movement."
Sustainable Sites
The environment of the patient rooms in Susquehanna Tower serves as one example of the sustainable (or green) design element in construction. Rooms are specifically designed to protect the environment while conserving energy. In addition to making use of natural light and views of the landscape, sustainable features include:
High efficiency toilets and sinks to conserve water
Interior finishes including ceiling tiles, flooring, wall coverings and window treatments that reduce the release of certain toxic chemicals
Lighting that maximizes energy efficiency with longer lamp life
Materials and products that provide clean, healthy air quality
Water Efficiency
As a result of high efficiency, low water consuming fixtures, potable water consumption at WRMC is estimated to be reduced by 40 percent or 650,000 gallons each year or 1,800 gallons per day. In addition, the landscaping design manages storm water and reduces the need for irrigation by 60 percent when compared with typical systems. This design will help SH save thousands of gallons of water each year.
Energy & Atmosphere
In 2010, SH installed a 1,900-kilowatt co-generator unit with a combined heat and power system at WRMC, which saved more than 10 million kilowatt hours of electricity in 2011. The new Energy Service Center is a model of efficient energy usage, utilizing gas-powered co-generation units that produce on-site electricity and capture waste heat for use in Susquehanna Tower. With this new center, SH saves $500,000 a year in energy costs.
Innovation in Design
The innovative design of landscaping and parking lots surrounding the hospital integrates drainage that captures storm water to reduce water runoff. Trees have been planted in central locations to reduce carbon dioxide emissions from automobiles. The landscape architecture provides a greening effect that adds life to the man-made parking lot. Integrated into the exterior design of the building, green roofs and healing gardens are examples of other sustainable site features.
Designed for efficiency and patient safety, the 242,000 square foot expansion at WRMC was the largest renovation project in Susquehanna Health's $250 million construction project. For more information, visit SusquehannaHealth.org.
About Susquehanna Health
Susquehanna Health is a three-hospital integrated health system including Divine Providence Hospital, Muncy Valley Hospital and Williamsport Regional Medical Center located in northcentral Pennsylvania. Serving patients from an 11-county region, Susquehanna Health is a healthcare leader and has been recognized at the national and state levels for quality of care. Susquehanna Health offers a wide array of services that include cancer care, heart and vascular care/heart surgery, neurosciences including neurosurgery, orthopedics, urology, OB/GYN, gastrointestinal services, behavioral health, physical rehabilitation, home care, long term care, assisted living and paramedic/ambulance services.