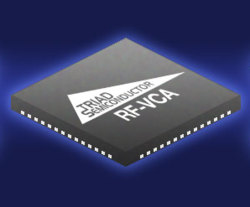 Avnet to distribute Triad's low cost mixed signal configurable ASIC solutions
WINSTON-SALEM, N.C and PHOENIX, A.Z. (PRWEB) September 20, 2012
Avnet Electronics Marketing Americas, a business region of Avnet, Inc., today announced it has inked a distribution agreement with Triad Semiconductor, the leader in the design and manufacture of configurable low-cost mixed signal ASICs based on via-configurable array (VCA). The agreement provides Avnet's customers in the defense, medical, industrial, consumer and automotive markets a low cost, rapid path to semiconductor integration through its ViaASIC™ solutions.
"Appointing Avnet as our distributor throughout the Americas is an integral part of Triad's long-term strategy to deliver semi-custom solutions across diverse vertical markets," explained Lynn Hayden, chief executive officer, Triad. "With their emphasis on strong technical support and global distribution excellence, Avnet is central to our goal of rapidly growing our semi-custom ViaASIC business that is revolutionizing the way that small and large companies obtain semiconductor integration."
"Triad's unique semi-custom IC technology will bring fast and affordable IC integration to our mutual customers," said Chuck Delph, senior vice president, Avnet Electronics Marketing Americas. "Avnet is committed to adding lines that bring true innovation and value to our customers. With shorter development times and lower development costs, Triad is an excellent choice for customers looking for alternatives to full-custom ASIC development."
Triad's mixed-signal VCA features similar programmability benefits of field programmable gate arrays (FPGAs), but differ in that they are programmed during fabrication (not in the field) by creating a unique via layer to connect the required analog and digital cells to implement a mixed-signal circuit. Unlike FPGAs, VCAs contain analog cells allowing for integration of analog circuits in addition to the digital.
About Triad Semiconductor
Founded in 2002, Triad Semiconductor is changing the way mixed signal ASICs are designed. Triad makes ViaASICs™ that combine silicon-proven analog and digital resources onto ASIC die that are configured with a single via-only mask layer change. This approach to custom silicon design reduces development cost, development time, and is easier and less risky than traditional full-custom IC design. Triad is a privately-held fabless semiconductor provider of IC solutions for any production volume from thousands to millions with headquarters at 3900 Westpoint Blvd., Winston-Salem, NC 27130. For more information, visit: http://www.triadsemi.com or call 336-774-2150.
(watch 3-minute video about Triad)
About Avnet Electronics Marketing
Avnet Electronics Marketing is an operating group of Phoenix-based Avnet, Inc. that serves electronic original equipment manufacturers (EOEMs) and electronic manufacturing services (EMS) providers in more than 70 countries, distributing electronic components from leading manufacturers and providing associated design-chain and supply-chain services. The group's website is located at http://www.em.avnet.com.
About Avnet, Inc.
Avnet, Inc., a Fortune 500 company, is one of the largest distributors of electronic components, computer products and embedded technology serving customers globally.