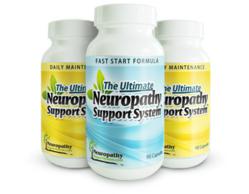 "I suffered from Peripheral neuropathy for years…
and now my pain is finally gone!" – Chad Atkinson
London, UK (PRWEB) September 21, 2012
The Ultimate Neuropathy Support System is now available exclusively through the neuropathytreatment.com website. It is a unique blend of herbs that has been specially formulated to alleviate the pain and suffering caused by the many different forms of peripheral neuropathy. Each year millions of people are diagnosed with the condition that can cause unbearable pain most notably in the hands and feet. Commonly linked to diabetes and other medical conditions it is estimated that around 8% of people will suffer from some form of neuropathy.
The Ultimate Neuropathy Support System
The system has been formulated by one of the world's leading herbalists to provide relief from the pain caused by various forms of neuropathy. Pain caused by the condition is notoriously hard to treat as it does not respond to commonly prescribed painkillers. For most sufferers the only option is strong opiate based drugs. The Ultimate Neuropathy Support System however does not rely on chemicals and synthetic ingredients to deal with symptoms and pain. It is a blend of just 5 natural herbs including Passionflower, Lobelia, California Poppy, Corydalis Yahhusuo and Prickly Ash Bark.
How it can help
A daily dose of the Ultimate Neuropathy Support System has helped thousands of neuropathy sufferers to manage and reverse their symptoms. It can help sufferers in a number of ways including:

Reduce feelings of numbness and tingling in the hands and feet
Eliminate pain and the burning sensation many sufferers experience
Support and strengthen nerves
Help to eliminate the stress and anxiety that dealing with neuropathic pain on a daily basis brings
A free 14 day trial of the Ultimate Neuropathy support system is now available from the neuropathytreatment.com website. It is available risk free and with no obligation with just a small fee to cover postage and packaging. Visitors to the site can now also get a free digital book entitled "Peripheral Neuropathy: What to do When the Pain Won't Stop" simply by leaving their name and email address.
About neuropathytreatment.com
The neuropathytreatment.com website was established by Chad Atkinson. Chad is a diabetic and a former long term sufferer of neuropathic pain. The site has been created to provide clear and helpful information to sufferers of all types of neuropathy and to help them manage their symptoms. More information about peripheral and diabetic neuropathy treatment is available on the website.