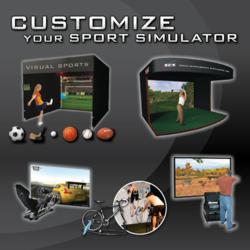 This offers a great method for our customers to play around with different configurations of our simulators.
Lafayette, CO (PRWEB) September 21, 2012
SES has launched for the first time in the industry the ability for customers to build, fully customize and purchase a sports simulator all from their website. Now visitors can price out simulators, learn about exciting add-ons and purchase from the comfort of their home; without ever having to contact a pushy commission-based salesperson. "This offers a great method for our customers to play around with different configurations of our simulators, all before they place their order" says Todd Mallon, President of SES. "They (the customer) really are able to create a great simulator package to fit their budget".
Just as technology has changed other industries for the better, now the simulator market is going through the same changes. Price points are dropping, competition is getting fiercer and companies have had to find ways to offer more value to their customers. Aside from the obvious marketing methods of price matching and better customer service, SES has just found a way to simplify the entire buying process. Previously, people would often have to provide personal information and submit an inquiry just to find out a price. Now people can price out, modify and create a custom golf simulator and checkout on the spot. It puts the control back in the customers hands and empowers them to make the decisions that are right for their situation.
While some interactive online software can be intimidating to use, the simulator customization process is actually quite easy. Plus, with product choices that have been screened for compatibility, the web visitor can focus on picking what they want without worry. The array of add-ons include everything from shooting, cycling and racing simulators to gaming chairs, golf training aids and more. An example of one of these great training products that is new to the market this year is the I'm Caddie. It is a small and easy to use golf GPS which verbally provides the most critical information needed on the golf course…the distance to the center of the green. Best of all it about a third the cost of its big named competitors.
About Sports Entertainment Specialists, Inc.
Sports Entertainment Specialists, Inc. are experts in the sports simulator industry with a mission to help their customers find the right solution at the best price. They provide virtual golf, hockey, baseball, soccer, football, hunting, and racing simulators for home and business use; as well as golf training products.