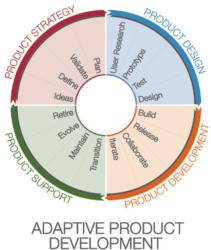 "With our full suite of services, we are ideally positioned to effectively bridge the gap between front-end user expectations and back-end technical complexities."
Dianne Black, 3Pillar Global's Senior Vice President of Client Services
Fairfax, VA (PRWEB) September 20, 2012
3Pillar Global, a product development partner that accelerates revenue growth by rapidly bringing innovative software solutions to market, today announced the availability of a new product design service, which joins the firm's product strategy, product development, and product support offerings. The addition of product design allows 3Pillar Global to:

Accelerate product time-to-market and return-on-investment by tightly integrating the product design and product development processes.
Drive short-term and long-term product revenue by delivering rich and engaging user experiences that combine responsive design with state-of-the-art technology.
Deliver cost efficiencies by enabling clients to work with a single partner throughout the product lifecycle, from vision and strategy to implementation and support.
"Optimizing the user experience is critical to product success, but so is understanding and harnessing the disruptive technologies necessary to deliver that experience on a variety of platforms," said Dianne Black, 3Pillar Global's Senior Vice President of Client Services. "With our full suite of services, we are ideally positioned to effectively bridge the gap between front-end user expectations and back-end technical complexities."
3Pillar Global's product design service follows a collaborative, iterative process that analyzes product strategy, assesses the real-world external environment, and validates, captures, and refines the user experiences that bring the product to life. The 3Pillar Global design team offers these services:
Customer Experience Research

Builds an understanding of the end-customers through user interviews, personas, and mental models.
Identifies usability problems through heuristic evaluations and contextual inquiries.
Experience Architecture

Defines a customer experience strategy that maps out each of the customer's touch points with the product and the company.
Prototyping and Usability Testing

Refines and details the product idea through rapid prototyping and usability testing.
Detailed Product Design

Creates detailed product designs that lead to greater customer engagement and better brand communication.
Creates functional and design specifications.
The product design service is delivered by a rapidly-growing practice area of experts led by Kit Unger. She brings over 15 years in the creative field to the role, including extensive experience in user research, information architecture, user interface and visual design, functional prototyping, the agile development process, and usability testing for both in-house design departments and software development agencies. Unger previously built and led user experience teams at Bloomberg Government and Congressional Quarterly.
About 3Pillar Global
3Pillar Global builds software that enables enterprises to turn data into value. We do this through our disciplined approach to innovation and our deep expertise at the intersection of disruptive trends such as mobile, cloud, and big data. Through a collaborative and fully integrated experience, 3Pillar navigates clients through technology challenges. Clients engage with expert teams that build reliable, award-winning products for content rich industries such as media, information services, education, and healthcare.
http://www.3pillarglobal.com.
Media Contact:
Kathryn Kaplan
SpeakerBox Communications
(703) 287-7823
kkaplan(at)speakerboxpr(dot)com