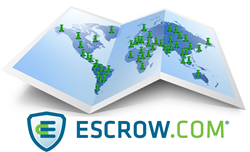 Rancho Santa Margarita, CA (PRWEB) September 20, 2012
Escrow.com, the pioneer of online escrow services, announced today their participation in the US Commercial Services Featured US Exporter (F.U.S.E.) directory and will now be featured as a method-of-payment for Importers and Exporters on high-volume, in-country websites around the world.
Brandon Abbey, Escrow.com President and Managing Director, said "We are very proud to partner with the US Commercial Service and look forward to delivering increased efficiencies and payment transaction protection for US Exporters."
F.U.S.E. was created to help promote the US export business by creating local directories where foreign importers, buyers, distributors and agents can search for US products and view listings in English or in the local language in which they are doing business. "Our commitment to F.U.S.E. is to be in 50 countries within the next 60 days," said Andrew K. Sokol, Escrow.com GM of Emerging Markets. "With nearly half of our transactions already involving a foreign buyer or seller, it just makes good business sense to participate in this program."
Escrow.com plays a unique yet significant role for both the Exporter, for non-payment, and the Importer, for non-delivery or misrepresentation of goods. When using Escrow.com, once the parties agree to the terms of the escrow at http://www.escrow.com, the Importer is instructed to send the agreed-upon funds to Escrow.com. Escrow.com then verifies the payment and instructs the Exporter to ship the merchandise. Upon delivery, the Importer has a pre-determined amount of time to inspect and accept the shipment. Once the shipment is accepted by the Importer, Escrow.com releases the funds to the Exporter.
In discussing escrow services, Brandon Abbey stated "The cost of using us is extremely reasonable in comparison to other cash-in-advance options and can either be paid in full by one party or split evenly between the Exporter and the Importer." He adds, "As the only fully accredited and licensed Internet escrow company, we serve a wide variety of transactional verticals and partnering with US Trade efforts will play a key factor in our growth over the next several years."
About Escrow.com
Headquartered in Rancho Santa Margarita, CA, Escrow.com, a privately held company, has pioneered the process of online escrow services. The Company, founded in 1999 by Fidelity National Financial, has established itself as the leading provider of secure business and consumer transaction management on the Internet. All escrow services offered on this Website are provided independently and exclusively by Internet Escrow Services(SM) (IES), one of the operating subsidiaries of Escrow.com. IES is fully licensed and accredited as an escrow company and is subject to compliance with all applicable nationwide escrow regulations.