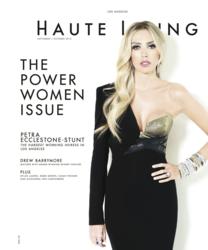 (PRWEB) September 19, 2012
Haute Living Los Angeles Cover Story with Petra Ecclestone. The issue will be available Thursday, September 20th.
Here is the link of the story in full: http://www.hauteliving.com/2012/09/rich-in-ambition/314614/
One of the richest women in the world, 23-year-old socialite Petra Stunt nee Ecclestone is the millionaire daughter of Formula One CEO, Bernie Ecclestone. Recently, Ecclestone launched a luxury handbag line, Stark, which has become a huge success after just two seasons. Some bags retail for up to $65,000 and are created entirely of exotic skins and Swarovski crystals. Stark is now sold in 25 stores, which include Saks and Intermix.
By definition, "stark" means to be severe or bare in appearance, which is a tongue-in-cheek way for Petra to let the world know that things aren't always what they seem. "Stark is the complete opposite of the bag. When you think of 'stark', you think neutral and white and plain. The bags themselves are detailed and out there." She adds, "For the first season, I had the model in our ad campaign shot naked, because I wanted to do a play on words: 'stark naked.' I wanted to do something sexy with a word that didn't really mean one thing, but that had hidden meaning."
"It's a lot of work, but I love it," the British heiress tells Haute Living when asked about being fully invested in Stark.
She is especially proud of her latest collection, a series of animal-inspired clutches featuring her company's panther insignia. "I love each bag having details," she says. "They're real showpieces. You don't have to wear a lot of jewelry or anything flashy when you carry one."
About Haute Living: Haute Living produces a leading network of luxury publications currently serving New York, Miami, Los Angeles, San Francisco and Russia. Haute Living uniquely reaches into the hearts and minds of the most influential and elusive consumers in our country's most affluent destinations.