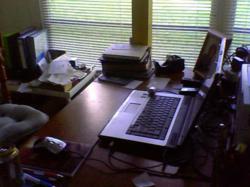 Port Charlotte, FL (PRWEB) September 27, 2012
With all the confusion and scientific mumbo jumbo surrounding the Creationism and Evolution debate a clear voice is now heard. That voice is biblicist R Frederick Riddle. Mr. Riddle does the research, puts it in plain English, and prepares an easy to read newsletter examining the Miracles of Evolution along with the Creationist view of our history and future.
One of the most interesting and popular columns that Mr. Riddle writes is the Miracles of Evolution. Miracle is not a word an evolutinist would use, but it accurately identifies the nature of the many mutations and other leaps of reasoning taking place. Each issue looks at some aspect of evolution and summarizes it.
Launched in July, 2011, the bi-monthly newsletter has grown to the degree that it now offers, in addition to articles on creationism and evolution, In The News and Miscellaneous News that gives the reader up-to-date, current, and timely information.
This free newsletter available at website.