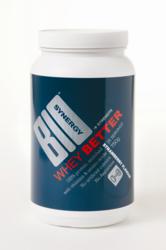 Currently-available protein powders offer an excellent source of high-end protein that doesn't require chasing down buffalo with a sharpened stick.
(PRWEB UK) 24 September 2012
The rules of the Paleo diet are simple, yet strict: eat nothing that our ancestors 2.5 million years ago wouldn't have recognised.
That means grains, dairy, legumes, salt, refined sugars, or processed oils all go the way of the dodo. Big Macs are definitely out. Fish, grass-fed meats, vegetables, fruits, roots, and nuts are in.
Simply put, in the realm of the paleolithic gastronomic enthusiast, protein and veggies are king. Don't even worry about getting your five a day. If you're on the caveman diet, that's your new bread and butter. In fact, you can forget everything you ever knew about bread or butter. They won't come along for thousands of years.
Bio-Synergy Whey Better is a trend-setting source of protein in it's category, and is the perfect complement to the successful pursuit of eating like a hunter-gatherer.
The fundamental impetus of the Paleo diet is to move away from all the dangers of the modern 'Western diet'. That means the excessive sodium content, processed sugars, and saturated fats that can be found in much of the frozen and fast food that many people consume without batting an eye.
The simple truth is that the over-consumption of these foods is directly correlated to skyrocketing levels of obesity, diabetes, and heart disease. While it might seem like overkill to hit the rewind button by a few million years, the implication of continuing down the current social trend in eating is a nightmare scenario of a country incapacitated by devastating health problems.
A return to basics makes solid nutritional sense: ditch the offending elements of our toxic Western diet in favour of quality protein and several handfuls of fruit and veg.
Access to fruits and vegetables is the easy part – never before in human history has fresh produce been so readily available at such accessible prices.
Protein is more of a sticking point. Not only is finding affordable meat that isn't corn-fed a challenge, but integrating quality meats into every meal can be a bit of a struggle. That's where one element of modern convenience comes to the rescue of our embattled modern caveman.
Currently-available protein powders offer an excellent source of high-end protein that doesn't require chasing down buffalo with a sharpened stick. And finding a brand that avoids unnatural additives isn't as hard as you might think.
Sports nutrition suppliers Bio-Synergy have specialised in protein with Whey Better, which boasts over 87% protein per serving with zero carbs or fat. Time to party like it's 1.99 million BCE.
Modern proteins like Whey Better are derived from milk sources, but because high-end products like Whey Better don't contain any lactose, they neatly circumvent the requirements of the Paleo diet. And because Whey Better is made with pure whey isolate, the king of protein in terms of bioavailability (the speed at which it's absorbed into the body), it's an excellent choice to complement every protein-hungry caveman roaming the streets.