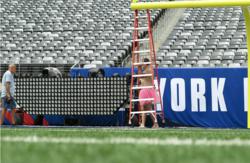 I am honored to have the support of the NFL behind The Tutu Project...
New York, NY (PRWEB) September 20, 2012
This October the National Football League and its teams will be supporting The Tutu Project by providing commercial photographer Bob Carey with access to select stadiums around the country to produce new images for The Tutu Project. This includes half-time photo opportunities at the New York Giants game at MetLife Stadium on October 7. Breast cancer advocate Linda Carey will also be included as part of their halftime show so that she can be honored alongside other breast cancer survivors. Details for activities with other teams will be announced, including the Indianapolis Colts and the Arizona Cardinals.
"After seeing The Tutu Project's inspirational photographs and learning more about the Carey's efforts to help those who are affected by breast cancer, we knew our teams would want to show support," said NFL Director of Community Affairs Anna Isaacson. "We are looking forward to launching our fourth annual Crucial Catch campaign this October, in partnership with the American Cancer Society, and we are pleased to be adding a relationship with The Tutu Project to our outreach."
"I am honored to have the support of the NFL behind The Tutu Project," said photographer Bob Carey. "There are a lot of husband and wife teams going through this breast cancer journey, and we are proud to be a symbol for the unity that it takes to get through it. Our goal is to raise funds for the Carey Foundation so that we can directly help the families that need it most".
# # #
The Tutu Project's mission is to support the fund raising efforts of The Carey Foundation for women with breast cancer. It strives to bring laughter and understanding to a community that has endured far too much. Commercial photographer Bob Carey began taking self-portraits in pink tutus as a way to express himself. What started as a passion became a way to cope when his wife Linda was diagnosed with breast cancer. This work now gives hope to others fighting cancer, as his photos have become an art and philanthropic phenomenon.
The Carey Foundation's mission is to provide support to women diagnosed with breast cancer, survivors, and their family members. Funds raised with the support of The Tutu Project, individual and corporate donations are provided directly to organizations that offer assistance with cancer-related costs like transportation to treatment, home care, childcare and medical supplies. The Carey Foundation is a 501(c) 3 non-profit organization.