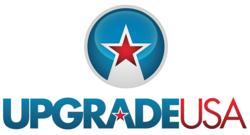 Building credit can be hard, but UpgradeUSA makes it easy.
Austin, TX (PRWEB) September 20, 2012
UpgradeUSA, a leading online computer leasing company, is reaching out to the 40% of US Consumers who want a chance to build better credit. The company offers laptop payment plans to customers looking to start or to rebuild credit, and reports every payment to all three US credit bureaus every month.
Recently, UpgradeUSA expanded its online laptop leasing services to 27 states, making it one of the best deals for people looking to get a laptop on a payment plan, but who can't qualify for in-store financing or credit cards. The company has a wide variety of customers including students, teachers, small business owners, and even grandmothers.
"Banks just aren't lending like they used to, and this affects many good, hard-working people who want to start building a history of good credit," said Jon Weisblatt, Founder & CEO, UpgradeUSA. "Building credit can be hard, but UpgradeUSA makes it easy."
The UpgradeUSA Difference
UpgradeUSA's online-only service is different than many other options on the market today, for many reasons:

UpgradeUSA does not repair bad credit, offer credit repair services, or serve as a credit repair company. Instead, it is focused on helping customers start to build a good credit history the smart way, by offering a payment plan that allows for consistent payments over time, and ensuring that every customer's good payment history is reported to all three credit bureaus, every month.
Customers are given a choice of quality computers, at different prices. Most computers at UpgradeUSA.com are new or factory-refurbished, and the product customers see is the product they get. Also, the prices advertised are the prices customers pay. The company does not change prices based on credit score or other factors.
The UpgradeUSA payoff schedule is one of the fairest in the business. Because customers don't want to be locked in, and don't want to pay for the terms and uneven quality associated with many traditional rent-to-own stores, UpgradeUSA offers a payoff schedule that is extremely favorable to consumers who may want to pay off the high-quality computer at an earlier date.
Unlike many late-night "as seen on TV" commercials, the UpgradeUSA program is not layaway, which means that consumers get a computer from UpgradeUSA much faster. The company ships a computer after the customer's first payment.
"The recent recession has been difficult for many people, especially in some of the hardest-hit areas of the country, such as Michigan and Arizona. We are providing a program that can help people get a fresh start towards rebuilding their financial future," said Weisblatt.
UpgradeUSA's laptop payment plans start as low as $55/month, and unlike other companies, prices at UpgradeUSA do not change based on a customer's credit score. This makes for an affordable quality alternative to traditional rent-to-own, financing, and layaway.
Availability by State
UpgradeUSA's online-only laptop payment plan services are now available for qualified customers in the following states: Arizona, California, Colorado, Delaware, Florida, Illinois, Kansas, Kentucky, Louisiana, Massachusetts, Michigan, Mississippi, Missouri, Montana, Nevada, New Mexico, New York, North Dakota, Oklahoma, Oregon, South Dakota, Texas, Utah, Vermont, Virginia, Washington, and Wyoming.
How People Can Qualify
To participate in the program, interested people should visit UpgradeUSA.com where they can click on the "Apply Now" button and complete a short application on a secure site. They should expect an email response within one business day. UpgradeUSA ships after the first customer payment.
After approved customers make their first payment and schedule subsequent monthly payments, UpgradeUSA quickly ships the computer that the customer ordered. Customers can make and schedule all payments securely online via debit or credit cards.
About UpgradeUSA
UpgradeUSA helps solve a leading question for a growing number of U.S. consumers: How do I build credit? The company addresses this through the online leasing of new and refurbished mobile computers, with each monthly customer payment reported to all three major U.S. credit bureaus. Customers can choose to end their lease and return their computer at any time after a few months, or can purchase it early at any time during the lease process, with no penalty. Our program is available in a growing number of states across the U.S. UpgradeUSA is privately held and is headquartered in Austin, Texas.