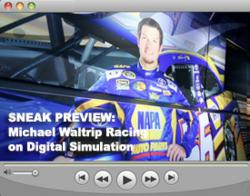 New York and London. (PRWEB) September 21, 2012
CD-adapco has always been committed to high performance computing partnerships. Recently, CD-adapco produced an informational video on simulation with Intel; Penguin Computing; NASCAR company, Michael Waltrip Racing; and Cervélo Bicycles, manufacturers of the world's fastest and lightest racing bikes.
To complement the video, CD-adapco is hosting a webinar titled, "The Need for Speed – High Performance Sports such as NASCAR, Formula 1, and Cycling Turn to Digital Simulation for Competitive Edge." This online event will showcase examples from Michael Waltrip Racing and Cervélo, who both understand the benefits of speed on and off the track. In addition, several other examples of engineering simulation in the sports world will be shown.
Guest speaker, Ivàn Sidorovich from Cervélo will showcase aerodynamic analysis of their race winning bicycle designs, and the benefits of using digital simulation with wind tunnel testing to save time and money.
Experts will demonstrate how smaller engineering organizations are realizing the benefits of automated meshing, advanced physics simulation, intuitive workflows, high performance computing, and cloud computing to reduce the cost and time of product development.
Attendees will have the opportunity to qualify for a software test drive where they can implement techniques demonstrated during the event. Attendees will also be automatically entered to win a 2012 Cervélo S5 Ultegra road cycle.
In addition to the video and webinar, CD-adapco's Vice President, Worldwide Business Development, Dr. Sven Enger will be presenting at the ISC Cloud'12 Conference on September 25 between 11:00 am and 12:30 pm. Sven's presentation will cover "Cloud computing with STAR-CCM+." His presentation will look at how some of the features of STAR-CCM+ are perfectly suited to facilitate the cloud offering we now see. Sven will discuss, in part, the STAR-CCM+ Power-on-Demand licensing scheme and highlight its benefits:

Increased power: Each license allows access to unlimited computing resources, either on your own cluster or using those of cloud computing services
Increased throughput: Each license allows to run an uncounted number of sessions, concurrently or not
Increased flexibility: Creation of a flexible simulation environment that expands and contracts based on your workload and target performance parameters, providing you with burst capacity
About CD-adapco
CD-adapco (http://www.cd-adapco.com) is the world's largest independent CFD focused CAE provider. Our core products are the technology-leading simulation packages, STAR-CCM+ and STAR-CD. The scope of our activities, however, extends well beyond CFD software development to encompass a wide range of CAE engineering services in fluid dynamics, heat transfer and structural engineering. Our ongoing mission is to "inspire innovation and reduce costs through the application of engineering simulation software and services."
A privately owned company, CD-adapco has maintained 17% organic year-on-year growth over the last 5 years. CD-adapco employs 700 talented individuals, working at 30 different offices across the globe.
###
Press Contact
Lauren Gautier, CD-adapco
lauren.gautier(at)cd-adapco(dot)com
+1 248-277-4600