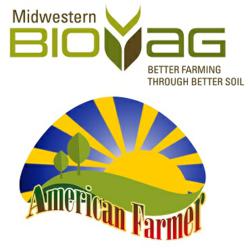 Blue Mounds, WI (PRWEB) September 21, 2012
Midwestern BioAg, a leader in biological farming for more than 25 years, announced today they will be featured in an upcoming episode of American Farmer.
Founded in 1984, Midwestern BioAg provides agronomy and livestock products and services through its network of trained sales consultants to over 3,500 farmers in 22 states. MBA operates blending facilities in Blue Mounds, WI and Utica, MN, along with plants in Iowa and Michigan. Over 70 sales consultants work closely with farmers to improve their soils and farming operations.
This particular episode of American Farmer will showcase Midwestern BioAg, and how MBA promotes better farming through better soils. Viewers will learn how biological farming creates balanced soils which allow farmers to reap the full genetic potential of their crops and livestock.
"At Midwestern BioAg, we have a passion for farming, a desire to change agriculture for the better, and believe farming should be profitable and fun", says Daniel Smith, Chief Executive Officer. "The MBA program starts in the soil with an approach inspired by nature, and perfected by science. Our consultants work with you to balance your soil, leading to higher yield potential, healthier plants and livestock, and increased profitability".
"Biological farming is a proven program for better farming ," said Charles Cowan, producer for American Farmer. "I'm proud to be able to introduce our audience to Midwestern BioAg and the world of biological farming."
In this segment, viewers will learn about how Midwestern BioAg is changing agriculture by helping farmers understand the biological farming system and its benefits. This practical, sustainable and profitable system will leave RFD-TV audiences inspired.
About Midwestern Bio-Ag:
Midwestern BioAg is changing agriculture by helping farmers understand the biological farming system and its benefits. Midwestern BioAg and their network of consultants teach farmers about how to achieve balanced soils filled with biological life, and how those soils produce better crops for livestock and humans.
For more information, visit: http://www.midwesternbioag.com or call 800-327-6012..
About American Farmer:
American Farmer is a breakthrough program on a mission to showcase the latest advancements in agriculture and farming. From seed to harvest, livestock and more, our producers have traveled the country covering the people, places and issues impacting all areas of farm country.
For more information visit: http://www.dmgproductions.org or call (866) 496-4065.
Media Contact:
Charlie Cowan, Producer
(866) 496-4065 x 875