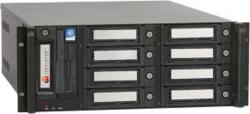 Austin, TX (PRWEB) September 21, 2012
Idealstor, a leading manufacturer of removable disk-to-disk backup solutions, announced today that they are excited to be the backup solution of choice for the US Coast guard. Idealstor offered the US Coast Guard unparalleled level of data protection and backup portability for Windows servers, virtual machines, databases and desktops at 45 locations.
Prior to switching to the Idealstor solution, the Coast Guard had been using tape backup and had a lot of reliability issues with restoration of their data. They also needed the ability to transport the backed up data from each remote location. The project team liked the flexibility and reliability that the Idealstor Backup solution offered.
The Coast Guard embarked on a rigorous evaluation process of testing products from different manufacturers including tape and disk systems before selecting Idealstor's ejectable disk Backup solution.
The Project Lead at the Coast Guard cited the following reasons for selecting the Idealstor solution:

Scalability- Forward compatibility with larger disk cartridges as they become available.
Flexibility- Software Agnostic (not tied to a specific software Vendor)
Standardization- Nonproprietary hard disks used in the cartridges.
Speed- Ability to quickly backup and restore data versus the competition.
Cost- Idealstor solution was more price competitive.
Technical Support- Idealstor was able to provide answers to technical questions in a timely manner versus the competition.
About Idealstor:
Founded in 2002, Idealstor is a pioneer in the removable disk backup solutions. Idealstor systems provide the speed and reliability of disk with the portability of tape for Backup, Archiving, Migration, Disaster Recovery and Work Load Availability. Idealstor solution addresses all facets of data life cycle management.