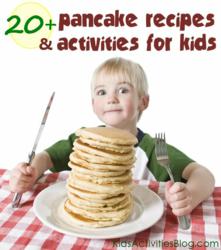 Fall is comming: Watch out Pancakes!
Dallas, Texas (PRWEB) September 22, 2012
Fall is coming. Watch out pancakes. Pig and Pancake ideas will surely make a smile on the kiddos this fall. Inspired by the book "If You Give a Pig a Pancake" the fall bucket list and activities for autumn should include some pancake inspired activities on lazy Saturday mornings.
Kids Activities Blog features 20+ recipies and activities about what to do with the little pancake eating artist. Pancakes are a family tradition in many households. Pancake activities for kids as well as grown-ups that are featured on the Kids Activities Blog will make young ones screaming for more. How about some flapjack sandwiches, French toast pancakes or simply pour the batter into ketchup bottles and make alphabet shaped pancakes? Add another twist and make some German pancakes, French pancakes or pancakes with Caramel Fudge.
The imagination has no limits! Help the kids learn the fundamentals of cooking and measuring by following easy pancake recipes. Check out many different kinds of educational activities and recipes at Kids Activities Blog. All tested by moms and their amazing pancake eating artists.
Painting pancakes takes an whole new meaning by looking at these amazing pictures on Kids Activities Blog. The painted pancakes turn out to be Modern Art.
The colorful flapjacks are fun to make AND also healthier. Simply switch out the syrup with honey mixed up with food coloring and one will be amazed at the creativity of the young ones. Many moms have uploaded their versions of these amazing pancakes.
Kids Activities Blog has a great collection of what to do during your lazy Fall Saturday mornings. One will be amazed at the next breakfast at what pancakes can turn into.