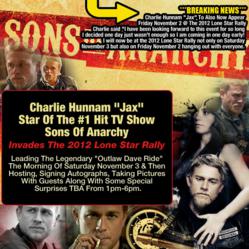 Galveston, TX (PRWEB) September 20, 2012
Motorcycle accident attorney Russ Brown stated, "The Lone Star Rally in Texas is an incredible event and we are proud to be a part of it."
The Lone Star Rally is like no other and in eleven years has become the largest weekend rally in North America. With the weather starting to get cooler in the North and the motorcycle riding season coming to a close the Lone Star Rally has something to offer all riders especially for those who will soon be checking off their bike winterizing list.
The Lone Star Rally takes place on Galveston Island, just south of Houston, Texas and offers stunning beaches, scenic rides and, if the weather cooperates, motorcycle enthusiasts can enjoy incredible summer temps - add that to all the Lone Star Rally has to offer - great concerts, the Official Lone Star Rally Poker Run, some of the worlds top bike builders including Eddie Trotta, Rick Fairless, The Martin Brothers, John Shope's Sinister Industries and Brigette Bourget. Charlie Hunnam Sons of Anarchy "JAX" will be making an appearance, there is also a special Lone Star Rally Bay Fishing Trip, you can see a World War II submarine and destroyer, the Official Tall Ship of Texas (The ELISSA), a sunken ship, drill rigs and much more including the 'big hearted' hospitality Texas is known for. And please be sure to drop by the Toys for Tots booth in Harborside and donate a toy to make a child's Christmas better.
About Russ Brown Motorcycle Attorneys:
Since 1975, Russ Brown Motorcycle Attorneys, Brown Koro & Romag, LLP have been providing legal services to motorcyclists hurt in motorcycle accidents across the country. Motorcycle Lawyer Russ Brown created the BAM (Free Breakdown and Legal Assistance for Motorcyclists) benefit program, which offers free roadside and legal assistance for motorcyclists nationwide. The BAM motorcycling community of riders helping riders has over 1.5 million members, is growing stronger every day and offers assistance to riders twenty four hours a day, seven days a week.