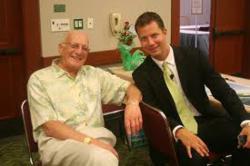 ...truly not only a great friend but a coach that has helped me...
Los Angeles, CA (PRWEB) September 25, 2012
JT Foxx will be presenting his last-ever event with George Ross, Executive Vice President and Senior Counsel for the Trump Organization, in Chicago, IL, from October 4-6, 2012.
A longtime personal friend and mentor to JT Foxx, George Ross has been a regular fixture at many Foxx Organization events. As JT explains, "I love George; he is truly not only a great friend but a coach that has helped me get through days where the pressure of being me seemed too much to bear. The truth is Mr. Trump doesn't want him to be out of the office teaching my students rather than helping grow the Trump Empire. So, this is your last chance to see George speak all day with me and teach you everything he has taught Trump and coach you the way he has coached me."
George Ross has been with the Trump Organization since 1996, but has been associated with Donald Trump for many years. He is responsible for development of foreign investments and supervision of leasing and operation of 40 Wall Street, the landmark 1.3 million square-feet, 72-story building located in Manhattan's Financial District, as well as the Trump Tower. He is also responsible for all licensing, promotion and marketing of Trump products including Trump Ice. He appears alongside Donald Trump on NBC's "The Apprentice", as one of Trump's most trusted advisors.
About JT Foxx
JT Foxx started investing with nothing more than a rusted out Ford pick-up truck, $974 dollars and 1 cheap suit. Now just 6 years later, he has acquired and sold over 500 properties, closed over $40 million in real estate deals. He is a serial entrepreneur and the host of the syndicated weekend radio personality of the "J.T. Foxx Show" in the U.S. and Canada. He has started several multi-million dollar companies all over the world, became one the most sought after motivational speakers and recognized as one of the top wealth coaches in the world all by mastering the art of partnering, branding, networking, and marketing.