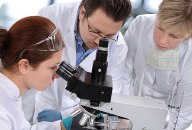 Needham, Massachusetts (PRWEB) September 20, 2012
Cambridge Healthtech Associates™ (CHA™), today announced results of a study on how collaborative research studies in the life sciences can more quickly move medical research from the lab to the clinic.
The study identified some of the major challenges and possible solutions to the issue of duplicated research efforts, as well as the benefits and obstacles for collaboration. Primary research interviews were conducted with over 100 individuals, representing a wide range of organizations – academics, biopharmaceutical companies, service providers, technology providers and the government.
Highlights from the study, "Collaboration in Research: Can Sharing Data Increase Industry Efficiency?" are as follows:are as follows:

A common consensus emerged: in an ideal world, sharing data with other companies and institutions would allow people to work collectively to find better technologies and faster solutions.
Words like "synergy" and "ecosystem" were used to paint a picture of an idealized healthcare landscape in which breakthroughs are accomplished through collaborative efforts where researchers share both their successes and their failures.
•However, the reality is that the industry provides scientists with incentives that understandably keep them from sharing their findings with other industry leaders. Researchers for pharma companies need to protect their IP in order to preserve their company's integrity, and maintain job security, and academics need to keep their findings quiet as they vie for the chance to publish.
As a result, redundancies are common in research. And, those coveted breakthrough results, therefore, don't come along as often as they could!
It seems that professionals across the healthcare spectrum, from scientists to CEOs, believe that collaboration in research, through sharing data and findings, is the solution to translate research to the clinic faster. Could increased collaboration in research really help push the industry forward, or is it simply too idealistic to work in a cut-throat, business-oriented world?
"According to the participants in this research study, industry and academic partnerships allow for data sharing and collaboration in research on a smaller and more manageable scale, and they still maintain that competitive edge necessary to drive industry forward at a fast pace. With shared resources from academia and industry, as well as their combined sources of funding, partnerships can help organizations make greater strides in research and avoid repeating the same mistakes as others in the industry, or drawing redundant conclusions," said Dawn Van Dam, General Manager for Cambridge Healthtech Associates.
A contained and organized system, like the public-private partnership, or a consortium, is a smaller scale initiative that can encourage collaboration in research and may ultimately help the entire industry function more efficiently.
We would like to acknowledge and thank all of those who participated in this study by providing their thoughts for this report.
About Cambridge Healthtech Associates
Cambridge Healthtech Associates™ (CHA™) leverages its extensive network and unique collaborative model in consulting, technology evaluations and community-based communication services to help clients in the life sciences industry commercialize and penetrate the marketplace to increase revenue.
Read more at http://www.chacorporate.com
If you would like more information about how Cambridge Healthtech Associates™ (http://www.chacorporate.com) and/or the Drug Safety Executive Council™ (http://www.drugsafetycouncil.org) or NGS Leaders™ (http://www.ngsleaders.org) can help you form, implement or manage a collaborative project in life sciences research and development, please call Dawn Van Dam at 781-972-5498 or dvandam(at)chacorporate(dot)com. We have completed numerous collaborative projects over the last 7 years; consequently, our expertise and experience are unparalleled in the industry.