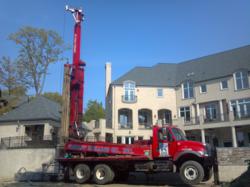 Dexter, Michigan (PRWEB) September 21, 2012
Cribley Well Drilling is now "rigged" to handle any commercial drilling job.
Since 4000 holes were drilled at Ball State University with Peterbilt well drilling rigs, it was only a matter of time before Cribley Well Drilling would add a Peterbilt rig to help with the growing geothermal and commercial drilling market in Michigan. General Manager, Tim Clark, pointed out the new addition of a Peterbilt Drilling Rig brings our total to 4 first class rigs and 4 first class crews, giving Cribley the capability to drill holes up to 20 inches in diameter and as deep as anyone will ever need to go.
Yes, when it comes to commercial well drilling Cribley Well Drilling is "rigged."
Not only do they have some of the most experienced crews in Michigan. Not only does Cribley lead the Southeastern Michigan area in residential well drilling projects. But they are also the go-to company for commercial well or geothermal drilling projects.
First class crews and first class rigs have allowed Cribley Well Drilling to dominate the commercial well drilling in southeastern Michigan. Major projects include a 400 hole project at Washtenaw Community College, geothermal drilling projects for the City of Wyandotte, Wayne County, Pontiac, Mt. Clemens and many more.
Cribley is also the leader in big irrigation wells, pivot irrigation wells, and agricultural irrigation wells. Many of these require the big Rigs to pound 12 inch holes.
While many of us love to watch these big rigs work, the real beneficiary are the projects that need multiple holes drilled correctly and on schedule.
So the next time you see Cribley Well Drilling rigs rolling down the road, you can bet they're on the way to pound out some big holes. And you can bet that a few folks will be watching the fun!
Call 800 697-6485 for more information.