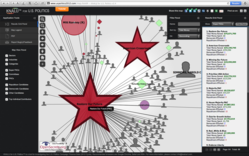 Visualizing the political ecosystem in the blink of an eye
Los Angeles, CA (PRWEB) September 20, 2012
iWakari, LLC. introduces to the voting public a powerful visualization application for the understanding of relationships and connections between money and candidates within the U.S. political process. The application, built using iWakari's KNALIJ™ (pronounced 'knowledge') platform, visualizes data prepared by the Center for Responsive Politics. It can be found at http://www.uspolitics2012.com.
KNALIJ for U.S. Politics is a dynamic, visual investigation tool to quickly see, and understand, the sources of influence and money in the political system. It is an engaging, social network friendly interface for the modern electorate, making a direct connection between candidates and their campaign funding.
"The average internet user does not want to spend time researching. They would rather look at a visual interface that lays out relationships and connections for an instant snapshot," states company CEO Alan Finkel. "KNALIJ for U.S. Politics offers both a casual examination, and the ability to click on candidates, SuperPACs or contributors to learn greater details about who they are and how they are connected."
About iWakari, LLC.
Located in Los Angeles, CA and Melbourne, Australia, iWakari, LLC. is a web-based social media and technology development company. Our applications strive to bring clarity to information and inspiration through cutting-edge visualization tools and collaborative communities.
KNALIJ launched its PubMed® visualization engine for medical research in July 2011. The Application has garnered an innovation award from the National Library of Medicine in Washington DC. It is free to use.