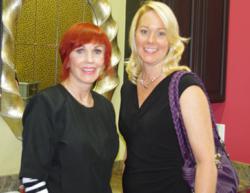 Many women who have called me this week are expressing surprise over how easy it looks to get an eyebrows tattoo.
Scottsdale, Arizona (PRWEB) September 20, 2012
Add another beauty mark to Reality TV online. But this time there was no drama, no conflict, no tears or screams or other outrageous behavior played out for the cameras. It was just a non-eventful, done to perfection permanent makeup procedure. And while such a thing isn't good for going "viral," it sure has the appearance of being popular with women interested in having an eyebrow tattoo cosmetic procedure. In just under one week, the video by Sally Hayes titled, "Permanent Makeup Eyebrows Tattoo" has attracted roughly 1500 views on YouTube.
"The response has been great," says Sally Hayes, permanent makeup artist with office locations in New York, NY, Scottsdale-Phoenix, AZ, Las Vegas, NV, and Los Angeles, CA. "Many women who have called me this week are expressing surprise over how easy it looks to get an eyebrows tattoo. If you make sure you go to an experienced professional for your permanent makeup, it should be easy, and should make every day with your brows easier for you for years to come."
One of the women who has enjoyed seeing the YouTube video is Marilyn Gardner of Casa Grande, Arizona. She is the 48-year old who was kind and brazen enough to appear on camera having her eyebrows tattooed by Hayes at her Scottsdale location. "Yes, I watched the video," said Gardner, a transplant from Kalamazoo, Michigan who now works for the state of Arizona. "I am very happy with the experience and am looking forward to my return visit in a couple of weeks for the second application to further define my eyebrows. The procedure was painless and I certainly appreciate Sally's high level of skill and ability!"
Being featured in a fast-rising video ranked near the top of YouTube for search terms: "permanent makeup eyebrows" and "eyebrow tattoo," is a surprising matter of going full circle for Gardner. She spent a decade on the sidelines eyeing permanent makeup as her time and effort saving solution from the daily hassle of makeup. It was only when she found Sally Hayes on YouTube did she finally feel confident enough in a provider of this service to make her permanent cosmetics wishes come true. "This whole thing is a process. And I like YouTube. I just never thought my 15 minutes of fame would be my eyebrows."
Having already had her eyeliner and lips done by Hayes, Gardner was the one more at ease with the live on camera aspect. Hayes fought through her own fear focusing on the comfort of Gardner and all women who might want this cosmetic and lifestyle solution for an enhanced but natural-looking appearance. "I did this to show how cosmetic tattooing is different than body art," said Hayes. "Every woman can see I can easily help them save time and effort while maximizing their natural beauty in a subtle yet significant way."
Based on the status of her young but popular YouTube Channel, Hayes is cleared for videos longer than 15 minutes. But viewers won't even need this much time to watch the full procedure. Having done it tens of thousands of times with eyebrow tattoos, permanent eyeliner, full lip color, and cosmetic camouflage, Hayes starts saving women time and effort with their facial appearance from the moment their procedure begins.
About Sally Hayes Permanent Makeup
With office locations in Phoenix-Scottsdale, AZ, New York, NY, Las Vegas, NV, and Los Angeles, CA, Sally Hayes is the permanent makeup artist recommended and referred by top plastic surgeons across the United States. She loves helping women find the easiest way to improving their appearance, enjoying added confidence, and managing makeup in their busy lives. She specializes in natural-looking eyebrow tattoos, permanent eyeliner, permanent lip makeup, and cosmetic camouflage for post-surgery facelift scars and areolas.
For more information, visit http://www.permanentmakeup.com.
Contact Information:
Sally Hayes Permanent Makeup
10201 N. Scottsdale Road
# 20 (inside Salon Studios)
Scottsdale, AZ 85253
(480) 951-0539