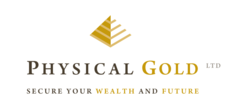 Pension gold is fast becoming a popular method of safeguarding for the future, since legislation in April 2006 allowed investment of gold into pensions.
(PRWEB UK) 20 September 2012
Following revelations that pension uptake has reached an all time low, with the Office for National Statistics revealing fewer than 3 million private sector workers are saving for their retirement, pensions are becoming a hot topic of conversation. The government has responded by promoting pension uptake in a new campaign and introducing auto-enrolment into pension schemes from October.
Pension gold is fast becoming a popular method of safeguarding for the future, since legislation in April 2006 allowed investment of gold into pensions. Physical Gold reveals some of the benefits of a pension gold plan:
1. Pension gold offers a more balanced and protected wealth, and thanks to relaxed rules there is a more flexible lifetime limit for contribution, so more money can be saved when it can be afforded. Through personal pensions, income can be withdrawn directly from the scheme through income withdrawal.
2. A pension required to house gold is called a Self Invested Personal Pension (SIPP). It benefits from updated legislation to give added flexibility to allow the mix of paper assets with tangible assets such as commercial property and investment grade gold. This can be achieved if there is no current pension provision but the saver desires to open a SIPP or even if somebody already has an existing pension and wishes to transfer to a more flexible structure. It can also be opened alongside existing personal or company schemes to allow versatility.
3. A SIPP provider acts as a fund trustee, and on retirement the capital provides an income which can be drawn either directly from the SIPP (subject to limits) or via an annuity purchased from an insurer. The SIPP provider wraps all the investments into one portfolio and assures reporting and legal obligations are met.
4. Physical Gold is a member of the National Association of Pension Funds and is teamed with a number of leading alternative asset pension providers to offer gold in pensions. A SIPP can be established either directly or by using an independent financial advisor to guide you through the risks and rewards of various asset classes. Paperwork will be taken care of and the gold will be stored in a licensed depository on your behalf by the trustee – insured by Lloyds of London to the highest depository standards.
5. The type of gold required for pensions needs to be of a purity no less than 995 thousandths in the form of a bar. These good delivery bars are recognised by the bullion market and their high purity means more gold content for your money. The gold is supplied in the form of 1oz bullion bars, allowing the flexibility to sell any part of the saver's gold holdings at any time.
6. There is currently no VAT on gold bars, allowing the same tax relief as other quality assets when bought as part of a pension. For top rate tax payers this means as much as 40% off the price of gold.
Physical Gold Ltd is a leading UK gold dealer, helping investors diversify their portfolios with innovative investment solutions. Renowned for their ground breaking products such as the Sipp gold and Gold Accumulation Account, the firm specialise in providing customers with tailored assistance in sourcing the best gold for their personal requirements. Based in London, the team are BNTA accredited and have an unrivalled knowledge of the gold market as well as an exceptional understanding of the general financial markets.