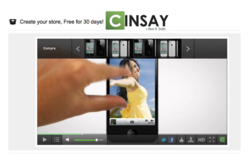 Many Cinsay merchants are experiencing conversion rates as high as 9%
Austin, TX (PRWEB) September 20, 2012
Cinsay, a leader in social video commerce technology, reports today an increase in sign ups for their new syndicatable merchant Smart Store™ platform. The Smart Store™ technology, which was released during DEMO Spring 2012, has experienced widespread adoption and deployment at an ever-increasing rate. Thousands of new accounts from small to medium businesses (SMBs) have registered at Cinsay and many have already uploaded video and deployed the Smart Store™ technology featuring their own products and services via websites, social media, email and mobile. The technology has been compelling for businesses because active Smart Store™ platforms have shown conversion ratios higher than typical eCommerce sites. In face, many Cinsay merchants are experiencing conversion rates as high as 9% for actions taken within their implemented stores.
Small Businesses Take Advantage of Video Commerce Technology
A recent study from Northwestern University and Syndio Social revealed that over 50% of all web traffic for small business comes directly from social media sites. Cinsay's video commerce platform thrives and is shared by fans and followers effortlessly inside those environments. SMBs from all over the U.S. are realizing the selling advantages of combining video with ecommerce via social media. Actor and indie filmmaker, Jacob Reynolds of Cinematik Films said, "We are very excited to use a new platform like Cinsay's to creatively reach audiences for our new documentary, 'Sounds of the Underground". Reynolds is able to pre-sell orders of their award-winning film, sell signed movie posters and t-shirts; all through his Smart Store™ account featuring the 2-minute trailer. The store easily embeds on the film's Wordpress website as well as their Facebook fan page. The artwork for the film was set up on branded posters and t-shirts through Cinsay On Demand at no cost to Cinematik. Once a purchase is made inside the Smart Store™ player, Cinsay On Demand creates the customized items and ships them directly to the buyer. Each month, Cinsay sends a check to Cinematik for the DVD sales and on demand profits.
Musicians are also discovering the power of video eCommerce. Independent garage artists to big, well-known bands like Pantera are leveraging the power of music, video and eCommerce to sell downloads and merchandise. Even nonprofits are adapting marketing efforts and including Cinsay's technology to drive traffic and increase donations.
Texas Winds is a nonprofit music outreach program. "Cinsay enables us to combine videos we already have produced with our fundraising efforts. The most opportune time to get someone to contribute is while they are watching our message and Cinsay gives us that power", said Laura Irvin, Program Director. "Through the use of technology, and help from Cinsay, Texas Winds will be able to expand it's outreach to enrich the lives of isolated seniors, hospital patients, veterans and at-risk children through live professional music programs", she added. Besides leveraging the video to take donations, Texas Winds is also using Cinsay On Demand to create, sell and ship t-shirts to consumers for a second, effortless revenue stream.
Big retailers benefit equally with Cinsay
While Cinsay's video commerce platform is rapidly being embraced by SMBs, traditional large retailers see the opportunity as well. GameFly, Wet Seal and Neiman Marcus are just a few which have incorporated the technology into their cutting-edge competitive eCommerce game plans for this fall. This week, Neiman Marcus/CUSP will launch a high-end, sleek fashion video featuring designers Kate Spade and Marc Jacobs among many others in a new, shoppable Cinsay Smart Store™ video.
MyCinsay.com is a new portal of growing Smart Store™ videos
The development of MyCinsay.com merchant portal is just the beginning to an organized, categorized page where merchants will be able to list and showcase their Smart Stores for consumers to search, find and buy. "MyCinsay.com is where we are building a next generation, video commerce space", said Christian Briggs, founder and CEO. "Besides enabling the merchants with various technology platforms to market their video commerce on social media and mobile, this will be a tremendous resource for sellers and shoppers alike", Briggs added.
Other Smart Store™ merchants recently added to the searchable merchant site includes: Harry's Smokehouse, Ready. Set. Cupcake!, Child Alert Emergency Fund, geneMe, MissiFizzle's Cakes, State Fair of Texas, Personal Food Trainer, Magic Brush, Soft Air, Texas Garden, Social Blend, Noirnet, Gladney Center, Brigantina, All American Soapbox Derby Association and HOPE Coffee.
Adding a Smart Store™ account to your current business is a very effective way of marketing and selling. Cinsay has made it easier than ever before to set up and launch your own Smart Store™. Incorporate your products and services with Cinsay On Demand for customized, branded products and promote your site on MyCinsay.com! Click here to learn more and get started: http://www.cinsay.com/smb/
About Cinsay, Inc.
Cinsay has created a next generation eCommerce, viewer interactive, video-based platform for any size businesses. Cinsay's SaaS based technology enables anyone to sell products, capture donations, and generate leads all inside the patented Smart Store™. Customers are offered a complete turnkey business via merchant account services as well as an exclusive on demand solution featuring dozens of personal, brandable products like t-shirts, caps, mugs and iPhone covers. Customers benefit from Cinsay's in-depth reporting tools and real-time statistical data. Cinsay's embeddable platform is compatible with web and mobile HTML5 devices and is highly scalable via its enterprise-level hosting and distribution network. Full video production is available through CinsayProductions.com. Cinsay aggregates and promotes merchant stores via its searchable portal, MyCinsay.com. Forbes has named Cinsay as one of "America's Most Promising Companies" and by eTail Conferences as a "Rising Star" in innovation.
About Smart Container™ Technology Conversion Rates
While many of Cinsay's clients experience higher conversion rates, Cinsay and the technology itself does not guarantee the same results for all users. The success of eCommerce and 'take action' conversions are influenced by many factors including: incentives, price, product, service, brand, audience, value, design and presentation of the promotion as well as outside market conditions and events.
Media Contacts:
Cinsay, Inc.
David Burrows
972-616-6400
dburrows(at)cinsay(dot)com