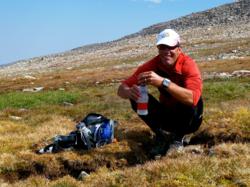 We told Yarington we'd give him a Suunto Ambit and a Garmin fenix and he could keep the watch he liked best
Bozeman, MT (PRWEB) September 20, 2012
Ultra-athlete John Yarington has been testing the Suunto Ambit for nearly four solid months for the Heart Rate Watch Company and confident he has put more miles on the watch than any blog tester on the planet. "John has beaten the Ambit to death in several countries, multiple mountain ranges and climbed the highest peak in the lower 48 States, so he's got some big miles on the watch", says Rusty Squire, President of the Heart Rate Watch Company.
THE ULTIMATE TEST
"We are giving John a Garmin fenix GPS watch in about a week and told him to keep the one he likes best and give the other one back", says Squire. He adds, "This is the most honest test we could think of to tell us which watch is better because John will keep the watch he likes best".
Of course the final result could take several months and might involve a significant test. "We don't believe in the short-term, one day, tests that 99% off the bloggers do because they don't really prove anything", says Squire. He adds, "A new car always drives well for the first day or two off the lot, John likes to beat on stuff".
Squire thinks the test is going to be very close and hopes it will create a tough decision for Yarington. "I've played and worked out with both watches and they are both very nice but our hope is that John will have a definitive declaration of which watch is the best", says Squire.
THE NEW CLASS OF WATCH
The Suunto Ambit and Garmin fenix form the core of a new class of watches that developed in 2012, not just an ABC watch (meaning altimeter, barometer, compass). "I like to call this the
adventure exercise watch category because these watches are superior for navigation to anything that preceded them but also include heart rate and exercise features", says Squire. He adds, "We've had everyone from hunters to athletes to US military buying these watches so it is quite a diverse audience".
John Yarington will announce his choice sometime in November, so stay tuned.