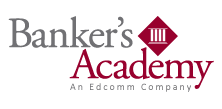 FORT WASHINGTON, PA (PRWEB) September 21, 2012
Banker's Academy, the leading global provider of training solutions to the financial services industry, will unveil its new industry-leading Learning Management System (LMS), exhibit its compliance eLearning courses and showcase its new 2013 redesigned eLearning library at the 11th Annual Association of Certified Anti-Money Laundering Specialists (ACAMS) Anti-Money Laundering (AML) & Financial Crime Conference. This globally-recognized Conference will take place in Las Vegas on October 1-3, 2012, and will be attended by representatives of more than 530 institutions and 2,500 participants from around the world.
Attendees will experience Banker's Academy's new LMS, which is the most robust in the industry — offering a clean, simple, user-friendly interface and easy administration, comprehensive tracking, easy-to-run standard and ad-hoc reports — as well as a built-in course authoring tool. This allows for not only creation of new, customized eLearning courses but also the ability to upload, track, assign and maintain 3rd party eLearning courses.
Banker's Academy will also showcase its 2013 eLearning library consisting of Compliance and Regulatory, Banking and Financial, and Professional Skills courses. All were built utilizing industry-leading instructional design concepts including intuitive and interactive learning components, comprehensive and up-to-date role-based and job-specific content, tailored to the appropriate industries. Banker's Academy's 2013 eLearning library provides banks, credit unions, Money Service Businesses (MSBs) and other financial institutions with engaging learning solutions that are easy to deploy and manage — all while reducing risk and exposure.
Banker's Academy's training library consists of not only BSA, AML, OFAC, USA Patriot Act and KYC topics but also covers all deposit, lending and security-based regulations, acts and mandates. Additional topics such as ethics, fraud and security are also available.
The ACAMS AML Conference will feature Richard Weber, Chief of IRS Criminal Investigation, as the keynote speaker. Other topics to be presented at the Conference include anti-bribery and anti-corruption programs, ethics, terrorist financing, and counterfeit trade.
Stop by Booth 200 to see a demo and enter to win a free Tablet!
##
About Banker's Academy
With 25+ years of experience and over 2,500 clients, Banker's Academy is the leading global provider of training solutions to the financial services industry, with a focus on banks, credit unions, and money service businesses. We're a partner you can count on to help you achieve your business goals. For more information, call 888-433-2666, +1.215.542.6900, or go to http://www.bankersacademy.com