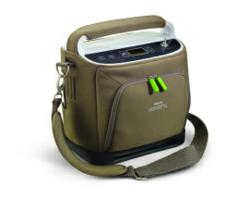 These machines are perfect for short holidays: no longer do you have to choose between lugging around a full size respironics machine and taking a chance with a pulsed flow portable machine
(PRWEB UK) 22 September 2012
With the success of TeNS Medical's latest additions to their range of ultra-portable respironics machines, the Midlands based medical services company are delighted to announce that, with the support of Phillips Respironics, a wide selection of these machines are now available for short term hire. With their lightweight and highly portable design, this new wave of portable respironics machines are the perfect accompaniment to a weekend break or longer holiday.
Respironics machines allow those with difficulties breathing to live a normal life and new machines, such as the Phillips SimplyGo range, offer great portability combined with the full capabilities of bulkier machines. Weighing in at a highly portable 4.5kg, these machines can offer both pulsed and a continuous flow of oxygen. While most portable machines only offer pulsed oxygen, this led many patients unable to rely on it alone, which is why Phillips went about designing a highly portable continuous flow respironics machine.
Martin Clark Managing Director of Tens Medical Supplies Ltd added "These machines are perfect for short holidays: no longer do you have to choose between lugging around a full size respironics machine and taking a chance with a pulsed flow portable machine. Coming with shoulder strap, hand strap, carry case and a custom trolley, this range are the most portable yet."
For those who have a great non-portable respironics machine at home and only need a short term fix for their holidays, then TeNS Medical's new hire options offer a great opportunity. With these machines available for short weekends through to prolonged holidays abroad, you can rest in peace that you will receive all the oxygen that you require. As these machines can be charged from a car cigarette lighter, they offer the perfect holiday fix and you can be sure that all your needs will be catered for.
Along with the SimplyGo respironics, TeNS Medical are also offering hire options on the EverGo and EverFlow machines, both also from Phillips. The EverFlow machines offer an efficient continuous flow of oxygen in a lightweight and quiet setting: a perfect home respironics machine, while the EverGo machine offers pulse delivery oxygen in a highly portable and discreet case. Both of these options come from the great range on offer from Phillips Respironics and offer the highest level of quality allied to a portability that makes them great options for every occasion. By offering the option to hire these machines, TeNS Medical fill a gap in the market for those who need a machine for the short term – a portable machine for a holiday for instance – or who just wish to try before they buy.
About TeNS Medical Services
Sutton Coldfield based TeNS Medical Services were founded with the values of an old fashioned family business. TeNS Medical aim to deliver the highest quality of medical devices to both the medical profession and individual customers and are a registered supplier for the NHS. Their reputation has been built upon their close relationships with hospitals and GP's across their entire range of products. TeNS Medical are specialists in drug free pain relief, oxygen concentrators and medical equipment needed in day to day life.