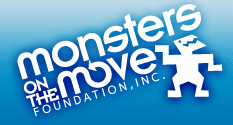 "Thank you for opening my daughter's eyes to the concept of paying it forward. You all are doing a great thing by investing in these children and teaching them about giving back to the community." - Lanie Dikitanan, Mother of 2011 MOTM Award Recipient
Baltimore, MD (PRWEB) September 21, 2012
Monsters on the Move Foundation is thrilled to announce its 2012 scholarship winners.
Monsters On The Move Foundation, Inc. (MOVE) was created to provide aspiring, underprivileged dancers the financial support necessary to pursue a quality dance education and fulfill their artistic goals. Scholarship funds will be used to assist in paying for dance education at accredited schools, organizations or institutions.
The creators of MOVE mandate that scholarship recipients "Pay It Forward" by giving back to their school, church or community. The appropriate "giving back" should mirror the
good intentions bestowed by the organization.
Congratulations to the following dancers who were selected out of over 200 applications received this year:
Camryn Adams
Roanoke, VA
Marley Clapp
Idaho Falls, ID
Myles Mitchell
Redwood, CA
Mireya Ruiz
Plainfield, IL
Ivy Anderson
Muncie, IN
Kylie Douglas
Novi, MI
Gabrielle Nealon
Carlsbad, CA
Haley Rutherford
Santa Cruz, CA
Kate Carpenter
Berlin, MD
Jessica Francis
Charlotte, NC
Tyanna Padilla
Modesto, CA
Ronnie Treadway
Norman, OK
Joanne Butler
Woburn, MA
Allyson Gamble
New York, NY
Aurianna Parker
Albany, GA
Alexis Peralta
Staten Island, NY
Tessa Jenkins
Urbana, OH
"So thank you for opening my daughter's eyes to the concept of paying it forward. Since then I have seen her make efforts to do her best to give back. You all are doing a GREAT thing by investing in these children and teaching them about giving back to the community." - Lanie Dikitanan (Mother of a 2011 award recipient)
MOVE accepts tax-deductible contributions from corporations and dance supporters worldwide. MOVE is a non-profit, tax-exempt 501(c)(3) charitable organization.