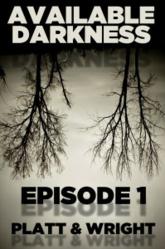 We want to be the AMC, Showtime, or HBO of the Kindle generation," said Platt. "With a new episode each week, and always putting out quality stories we'd read (or watch) ourselves.
Cincinnati, OH (PRWEB) September 21, 2012
The self-titled "Kings of Serialized Fiction," Sean Platt and David Wright, continue their quest in releasing a book per week this year with a reworking of their 2011 debut as co-authors, Available Darkness: Book One, and releasing it as a revised serial starting with Available Darkness: Episode 1. The vampire book was originally planned as the first part of a trilogy. But that was before the duo found huge success this year with their post-apocalyptic serial, Yesterday's Gone.
Wright explained that while Available Darkness started as a serial on the web in 2008, they'd not thought to write it as a serial until after they began writing Yesterday's Gone.
"When we started Yesterday's Gone, we weren't sure if we could make serials work on Amazon," said Wright. "There were a lot of doubters saying serials wouldn't work. We thought Amazon and e-publishing were the perfect environment for serials, though. Thankfully, readers turned out to support us early on and prove we were on the right path. Now we want to give Available Darkness the serialized treatment it deserves."
Platt and Wright have found success with a string of series designed like television shows, focusing on character-driven cliffhanger-filled thrillers in the horror, sci-fi, and dark fantasy genres. The duo writes their series like TV shows, with each book serving as an episode and there being six episodes in a season.
"We want to be the AMC, Showtime, or HBO of the Kindle generation," said Platt. "With a new episode each week, and always putting out quality stories we'd read (or watch) ourselves."
The authors aren't just splitting the original book into six episodes, however. They're also changing the flow, taking out some of the clunky exposition which they (and a few readers) felt had marred the second act, and making it an overall better reading experience.
"We've learned so much this year while writing an episode per week," said Platt, who — with Wright — is also the co-founder of their small publishing company, Collective Inkwell. "We've written a lot since last summer, and we wanted to take what we've learned and make our first book a better book."
While they revised a lot of the text to improve it, they were careful not to change what happened in the original book.
"We don't want to alienate readers who already read the book, or make them buy the revised version in order to be up to speed when we start the second season," said Wright. "What happened in the first book happens in the first season. Events don't change at all. They're just told a bit better… we hope."
Available Darkness is billed as a "new breed" of vampire mystery thriller. The story follows an amnesiac, John, who was buried alive and wakes with no memory. As he tries to uncover the mysteries of his past, John finds himself as a guardian to an abused 11-year-old girl, and hunted by an FBI agent with a score to settle. The story, with its thrills, a touch of fantasy, a few huge secrets, and a romantic subplot, has found a small cult following which have been emailing Platt and Wright asking when the second book would be out.
"We kept putting it off because this is our first story together, and the characters are special to us," said Wright. "We wanted to get it just right before returning to the world of Available Darkness. Now that we're back, we can't wait to get into Season Two this fall."
Pick up the first episode of the serialized fiction, Available Darkness, at Amazon today.
Platt and Wright are the self-proclaimed Kings of Serialized Fiction, who are spending 2012 releasing a book per week, spanning across several serials (including the smash hit post-apocalyptic serial Yesterday's Gone, WhiteSpace, ForNevermore, Available Darkness, and collections of their Twilight Zone-inspired Dark Crossings short stories.
Read more about their book-per-week quest at http://www.CollectiveInkwell.com.