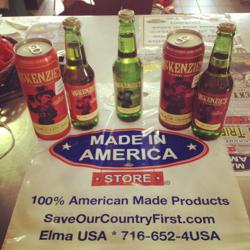 If you're looking for something different to drink, McKenzie's is the way to go, I love the Black Cherry Cider
Elma, New York (PRWEB) September 21, 2012
Local Breweries have been popping up all over the United States bringing unique new flavors of beer and alcoholic beverages to consumers. The State of New York is a mixing pot of new craft beer companies and one of the fastest growing companies, McKenzie's Hard Cider, has made their way into the Made In America Store.
Click here to visit the Made In America Store Online! Shop for your 100% USA made products!
The first hard cider from the Made In America Store, McKenzie's Hard Cider, brings 3 refreshing flavors. Green Apple, Black Cherry and Original Hard Cider come in both glass 6 packs and single tall cans!
McKenzie's has a long history with Western New York, where they still manufacture the Hard Cider today, but people may know more about McKenzie's than they think they do. For a lot of Western New Yorkers, Mayer Brother's Apple Cider is nothing new and people from all over come specifically for their brand of Cider.
"If you're looking for something different to drink, McKenzie's is the way to go, I love the Black Cherry Cider" says Bryan Mendez, a Made In America Store Cashier.
Son of Jacob Mayor and Elizabeth McKenzie, Jacob McKenzie Mayer or "J. Mack" as some people called him, started and built his own Cider Mill in 1852. The cider mill was located in West Seneca where it still stands and manufactures today.
Want to keep up to date with the Made In America Store? Visit out Blog and interact!
J. Mack and his Grandfather McKenzie made special brews of the cider for their family and friends which is the Hard Cider that we know today. Only recently has the special recipe of Hard Cider had made it into store shelves. Being 100% American made, the McKenzie's Hard Cider was the perfect candidate to be at the Made In America Store!
The Made In America Store is the only brick and mortar store that sells 100% made in the United States products from over 350 vendors. Consumers can visit http://www.MadeInAmericaStore.com or call 716-652-4872 to get more information or shop our catalog of over 3,500 items. Both Active Duty Military Personnel and U.S. Military Veterans receive a 10% discount every day. Followers of the "Made In America" movement can keep updated with the Made In America Store through Facebook, Twitter, Google+, Pinterest, FourSquare and even their own blog on Wordpress!