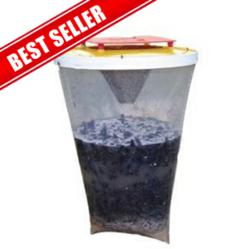 Products You Can Count On From People Who Care
North Yorkshire, UK (PRWEB UK) 21 September 2012
House flies have been troubling families for a long time. However, these tiny troublemakers have moved out of their comfort zone to trouble anybody, be it in office, gardens, theatres, etc. They travel in groups, but even a single one can spell doom, affecting concentration and calm. To put an end to this menace, the popular online shopping portal, CNM Online, introduces fly traps in a wide range of variety of leading brands. Numerous of its designs are available on the site, depending upon the intensity of the menace. One such product can be hung on the hook. It captures up to 20,000 flies. All the flytraps available on the site are affordable and put an end to fly trouble at low costs. These traps for flies here are foolproof, offering complete protection against flies. Capturing flies helps to keep the environment safe and healthy. The trap is most useful in homes with kids. Kids have low immunity and they are not able to protect themselves from flies.
Many fly traps available on CNM Online do not use poison to kill the flies. They just trap the flies. This helps to keep environment fly and poison free. Families can install these fly traps even on weekend farms, private beaches, camps, and bin areas. These make way for trouble free calm weekends. Flies enter home mostly through the windows. A special flytrap has been invented to stop them entering from home itself. These fly traps are to be installed on the windows. The specialized angle-trap helps hide the dead flies. Those who are worried about the cost of this excellent innovation should know that the special mechanism in these last for four months helping to recover the investment. It comes in the form of adhesive fitting to windows and other areas perfectly. Fly papers are another excellent innovation. These papers attract not only flies but other insects as well, making it simply cost effective.
People who do not want to spoil the interiors by displaying a Flytrap can go for stylish fly traps. With contemporary exterior, they have a hidden glue board that traps and retains both flies and insects. It can be mounted on wall or can even stand freely. With aluminum body, it is completely rust-free. By attracting flies and insects within 90 square metres, this Flytrap does not require an additional starter, saving energy. The recently introduced UV fly traps are a wonderful innovation. Perfect for offices, these traps have UV tubes for trapping flies. With stylish exteriors, they complement corporate interiors. Offices and restaurants can install a high-end flytrap in their pantries. They do not look like a flytrap at all. With high-efficacy, the UV tubes can be replaced easily post use with branded ones.
Sharing views on unending fly troubles, the Senior Spokesperson at CNM Online says, "Flies have been troubling each and every setup. Their presence brands an organization or a home as unhygienic. Hence, we present different types of Flytraps that suit varied requirements."
For more information about fly traps, visit http://www.cnmonline.co.uk/home.php
About CNM Online
CNM Online is a family run business founded in 2004. The site has more than 200,000 customers and believes in offering solutions rather than products. The largest supplier of heating products for home, CNM Online offers a range of efficient and affordable solutions.