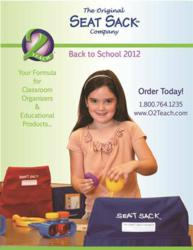 I LOVE Seat Sack! I can't imagine teaching without all the amazing products we have in our classroom. You have made me a more organized and effective teacher.~Arlee Hall, Kindergarten Teacher
Naples, FL (PRWEB) September 22, 2012
Seat Sack, Inc and O2Teach have created a friendly, social network https://www.facebook.com/SEATSACK page for teachers and parents to share teaching ideas, organizing tips and giveaways. Teachers and parents from around the country are joining in on the fun and the positive commitment that The Original Seat Sack Company offers. The corporation uses the site to engage viewers with educational news, tips for teaching various topics, introduction of new educational products and creates a fun atmosphere of giving back to the teaching community.
Click into the fun by joining Seat Sack on Facebook for topics such as: what concept do you find as the hardest to teach, forms of communication that parents and teachers use to communicate, should parents and teachers be friends on Facebook, tell us about your favorite teacher or how do you create an organized classroom. Periodically, the Seat Sack Corporation, which also features products from O2Teach, will ask its "likes" to submit their responses for a chance to win Seat Sacks, classroom organizers, educational games or instructional materials.
Jennifer Rinker a teacher who regularly participates in discussions and comments on Seat Sacks Facebook page writes, "Thank you Seat Sack for looking out for the teachers and caring about us. It's refreshing to see a large company that is still willing to help out the people in the classroom!" This resource page for teachers and parents is a beneficial site that offers not only free products, but insightful tips. Debbie Clements commented, "From what I've learned hanging out here tonight, Seat Sack is a fun company that really cares about its customers!"
Whether you are an elementary, middle or high school teacher, a college student studying to become a teacher or a parent seeking ways to help your child in school; this Seat Sack Facebook page is a creative way to lighten up your day, learn from others, interact with peers and possibly sample a free product.
The Original Seat Sack Company has been working with parents and teachers to provide organizers for the home, school and office since 1999. With the success of the Seat Sack chair pocket and other classroom organizers, the corporation has expanded its product line to feature a full line of high quality educational products and organizers through O2Teach. The passion of both companies is to provide educational tools and organizers that assist educators in engaging learners and meeting the needs of the individual learner. In addition to their website, http://www.seatsack.com and Facebook, the company posts on Pinterest, Twitter, Google Plus and showcases a new pro-turn digital catalog, http://www.pageturnpro.com/O2Teach/40977-The-Original-Seat-Sack-Co-Back-to-School-2012/index.html#1 and don't forget to join them on Facebook.