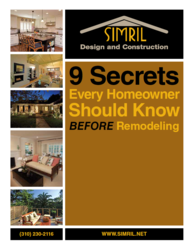 Our e-guide would be useful for any homeowner in the country planning on doing a remodeling project.
Los Angeles, CA (PRWEB) September 27, 2012
Los Angeles area home remodeling company Simril Design and Construction announced the release of its new consumer e-guide to home remodeling. The e-guide, "9 Secrets Every Homeowner Should Know Before Remodeling", is now available free for homeowners to download at http://www.simril.net.
The e-guide includes useful tips that help homeowners have better home remodeling experiences such as the importance of setting clear priorities for the project, the ways in which homeowners can get a return on their remodeling investment and how to get more value from their remodeling project by timing when they do the project. The homeowner remodeling e-guide provides links to specific pages in the Simril Design and Construction website "Tips and Tools" section where additional information can be found such as specific methods of setting home remodeling project priorities, questions to ask contractors and references and red flags to look out for when selecting a remodeling contractor.
Scott Simril, founder of Simril Design and Construction commented, "One of the most important decisions a homeowner makes that affects the success of a remodeling project and the nature of the home remodeling experience is the proper selection of a contractor. It's not always easy. Some of the secrets in our new e-guide and articles they link to on our website, help homeowners learn how to determine if a contractor they are considering for their project is the right one for the project and for them."
He continued, "While our company only works in the Los Angeles area and western suburbs our e-guide would be useful for any homeowner in the country planning on doing a remodeling project."
With headquarters in Pacific Palisades CA, Simril Design and Construction provides design build home remodeling services to homeowners in Los Angeles, Pacific Palisades, Santa Monica, Brentwood, Malibu, Beverly Hills, Westwood, Century City and Marina Del Rey. The company provides architectural design and construction services for projects such as home additions, kitchens, bathrooms, interior and exterior remodeling, as well as provides home maintenance services. The company was founded by Scott Simril who has been in the remodeling and building industry since 1976.