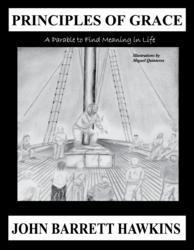 San Diego, CA (PRWEB) September 22, 2012
Principles of Grace: A Parable to Discover Purpose in Life, the new book by John Barrett Hawkins, provides a step-by-step guide for landing your dream job. The book is based on Hawkins' 10-year study of peak human experience.
"I wanted to know everything there was to know about how the world's peak performers identified their callings and the techniques they relied upon to land their dream job," says Hawkins. "I read books by psychologists, spiritual masters, personal coaches, Olympic athletes, top entrepreneurs and Eastern mystics. I studied countless books on the subject of achieving personal greatness, and mined them for insights, ideas, advice, wisdom and success secrets. Along the way I took copious notes and compiled all of the most insightful information into a personal excellence program, which became the basis for Principles of Grace."
Principles of Grace provides essential information to help you land your dream job. Following are six steps to consider:
Essential Step #1:
Identify your passions and natural talents. Take a personal retreat in nature and answers these five questions:

What subjects do you enjoy talking about so much that you lose track of time?
What people inspire you?
What activities make you feel purposeful?
What places increase your energy level?
What natural talents do you enjoy using (problem-solving, learning, leadership, organizing, teaching, etc.)?
Essential Step #2:
Identify jobs are your passions and natural talents intersect.
Essential Step #3:
Get informed. Search the web for sites and articles related to your field. Read books about people who are succeeding in your dream job.
Essential Step #4:
Be prepared. Write a resume that is tailored to the job you will be seeking. Conduct mock interviews and practice answering every conceivable question your perspective employer could possibly ask you.
Essential Step #5:
Go for it. Identify the person who does the hiring and contact him or her to schedule an interview.
Principles of Grace is a 94-page parable. The softcover book is available at Amazon.com and the e-book edition is available through Kindle.
Att. Media: contact the author for interviews or review copies. Visit http://www.JohnBarrettHawkins.com/presskit for cover art, author photos, excerpts, book summary, chapter by chapter preview, mock book review, news pegs, articles written by Hawkins and more.