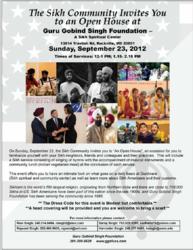 Rockville, MD (PRWEB) September 21, 2012
Guru Gobind Singh Foundation, a Gurdwara (Sikh Spiritual Center) based in Rockville, Maryland, is holding an open house on September 23rd and is inviting its neighbors and members of nearby churches and synagogues to come and learn more about Sikhs and their traditions. Members of the Sikh community throughout the metro area, is inviting their non-Sikh friends, neighbors, colleagues, and teachers of their children's schools to this program to expose them to the Sikh life and its unique features. GGSF has planned two services from 12 – 1pm and again at 1:15 – 2:15 pm for the convenience of various faith communities. Guests will be able to enjoy the experience of a Sikh religious service which consists of hymn singing based on raga, an ancient classical tradition, with the accompaniment of musical instruments and partake of Laangar (a community vegetarian meal).
Sikhism is the world's fifth largest religion, with a population of over 25 million worldwide, and about 700,000 in North America.The first Sikhs came to the United States and Canada over a hundred years ago, and were involved in the construction of railroads in the Pacific North-West. Today, Sikhs continue to make significant contributions to American society in many walks of life.
Since September 11, 2001, Sikhs have faced hate crimes and prejudice in a America due to their outer identity of unshorn beards and turbans being linked wrongly to terrorist groups and a Sikh was killed in Phoenix, AZ, in 2001, as a backlash after 9/11 attacks. The recent tragedy in Oak Creek, Wisconsin is part of the same tragedy. Even children were not left untouched by this wave of prejudice. Sikh children were victimized by being taunted and bullied by their peers in schools, causing tremendous emotional and psychological stress to them and their parents. Therefore in an effort to educate and come together in solidarity with their fellow Americans, the Sikh community invites all those interested to be a part of this program.
For More Information, Please call:
Ravi Singh, (240) 314-0494, Rsingh2 (at) msn (dot) com
Dr. Harvinder Singh, (240) 277-5491, hsingh (at) umm (dot) edu;
Sartaj Singh Dhami, (703) 929-9285, ssdhami (at) yahoo (dot) com;
Dr. Rajwant Singh, (202) 460-0630, Rajwant (at) aol (dot) com