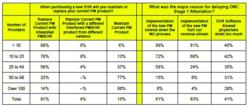 When asked "why did you replace your current PM product", 83% stated that the vendor selling the EHR product had convinced the practice that they would be better off with an integrated PM/EHR product.
Alphretta, GA (PRWEB) September 21, 2012
In the past 18 months, there has been an uptick in the number of medical Practices that are purchasing new Electronic Health Record (EHR) products, mostly because of the 2009 Health Information Technology for Economic and Clinical Health (HITECH) Act, enacted as part of the American Recovery and Reinvestment Act. The HITECH act was designed to promote the adoption and meaningful use of health information technology.
AC Group (a Texas based Healthcare Consulting firm) conducted a survey of 1,447 practices during November 1, 2011 through March 31, 2012 and determined that 81% of practice had replaced their current PM product with one offered by the new EHR vendor.
The AC Group determined that the replacement of the older PM product delayed the EHR implementation process and had negative impact on physician revenues.
And as indicated in numerous other studies, the replacement of the PM and the implementation of a new EHR decrease overall physician productivity.
When considering a new EHR product, practices should consider the potential interruption in cash flow and decreases in staff productivity before deciding to replace their current PM product. In some cases where the older PM product is no longer meeting the needs of the practice or is no longer being supported by the vendor, then of course a new PM product would be necessary.
However, the need for a truly integrated PM product does not necessary mean you are getting a better product with improved functionality. Actually, based on physician perceptions, the replacement of the current Practice Management and Billing system might negatively affect your operations.
See the full report: http://www.simplifymd.com/article/should-you-replace-your-current-practice-management-software-when-purchasing-new-ehr