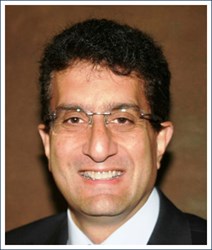 Middleton Manchester (PRWEB) September 21, 2012
Leading Manchester dentist Dr Tariq Drabu, the owner of Langley Dental Practice in Middleton, Manchester has announced that he and his team will be expanding independent, private and cosmetic dental services at Langley Dental Practice in the coming months.
Speaking about the proposed changes Dr Tariq Drabu said "I have made tremendous improvements to Langley Dental Practice since I purchased it in 1998. When I first bought the practice it had a very small patient base of around 1500. Now we have more than 18,000 patients on our practice computers. In 2005 we totally rebuilt the practice and expanded it from 2 to 4 surgeries. I am registered with the General Dental Council (GDC) as a specialist in oral surgery and we are a specialist surgical referral practice taking referrals from all over the borough of Rochdale. Although we are mainly an NHS practice, the standard of our facilities and equipment is as good as, if not better than, many private practices in the North West"
Dr Tariq Drabu went on to say "over the years we always tried to listen to and take on board the requests and needs of our patients. Many patients have asked for services that are not available on the NHS such as implants, tooth whitening, white fillings on back teeth and other general cosmetic dental services. Other patients have also asked for surgeries to be available in the evening due to their work commitments."
Dr Tariq Drabu and his team decided to combine these two requests and needs. He said "we looked into the current state of affairs as they stood and have decided to open up evening clinics for those patients who wish to access private treatment that is not available on the NHS, at times that are convenient to them outside of normal working hours. Our highly experienced team led by clinical director Matthew Hodkinson is ready to respond to the needs of our patients."
Dr Tariq Drabu continued by saying "we have drawn up what we believe to be a very competitive private price list with a full examination and assessment including x-rays and a written detailed treatment plan starting at just £50. At this examination appointment all treatment alternatives will be discussed so that our patients will have a clear idea of what options are available to them before going forward with treatment. We will be able to offer a full range of treatment including implants, tooth whitening, veneers and other cosmetic enhancements. The clinics will run on Wednesday evenings and will be staffed by our UK trained and qualified dentists along with our superb support staff."
Dr Tariq Drabu concluded by saying "we hope to have these clinics set up in the next 6 weeks in the run up to the Christmas period and we are confident that they will quickly establish themselves as a permanent feature of our practice."