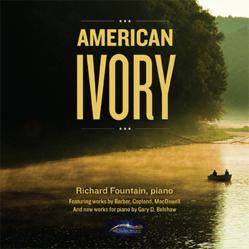 I think [Dr. Fountain] is the most gifted pianist I have ever shaken hands with.
(PRWEB) September 23, 2012
It was a couple of years in the making, but on Thursday, Sept. 27, Dr. Richard Fountain will release his first professional CD featuring himself, a Steinway Model D grand Piano and original compositions of his friend and colleague, Dr. Gary Belshaw.
The CD officially will be unveiled during Dr. Fountain's faculty recital at 7:30 p.m. in Wayland Baptist University's Harral auditorium. Admission to the concert is free and open to the public. The CD will be available for purchase after the concert for $15. It is also available on Amazon and iTunes.
Both professors in the School of Music at Wayland Baptist University, Fountain and Belshaw began discussing the idea of collaborating on an album a couple of years ago when a school-sponsored visit to Germany and the Czech Republic sparked a creative fire in Belshaw.
While sitting in the practice room for the Prague Philharmonic Orchestra, Belshaw, Professor of Composition, said he should write something for piano, "something virtuosic."
"[Fountain] said I should write a sonata," Belshaw said.
Belshaw wrote the first movement of a sonata that he hoped to finish through the course of the summer. However, he was unable to complete the piece so he called it a rhapsody and gave it to Fountain, Assistant Professor of Collaborative Piano, to premiere on the Wayland performance stage. Following the performance, the two began discussions on recording several of Belshaw's compositions.
"Gary has had this music around that he has written and he wanted me to play it here and there," said Fountain, who is also trained to play the old piano-forte instruments. "He said I should record it someday."
When the School of Music purchased a new Steinway concert grand piano as the initial phase of its move to an All-Steinway School designation, Fountain thought the time would be right to actively pursue a professional recording. After raising more than $7,000 through the help of kickstarter.com and "the generosity of friends, family and total strangers," Fountain and Belshaw began the technical process of producing the recording.
With the help of a colleague from Texas Tech University, the main stage in Harral auditorium was turned into recording studio where Fountain spent three days repeatedly playing the selected pieces of music.
The compilation features the works of MacDowell, Barber and Copland and six original pieces from Belshaw. Fountain and Belshaw designed the CD to feature Belshaw's Passacaglia next to a Passacaglia written by Copland, and Belshaw's Nocturne next to one composed by Barber.
"[Gary's] stuff is really very diverse," Fountain said. "It goes from the very academic style of music that is more mathematically based on intervals and what you do with those intervals to what I think of as a movie score. Kind of a nostalgic Forest Gump style."
Both professors and other members of the School of Music say having the recording really validates what the school is trying to accomplish. And it hasn't gone unnoticed by students.
"I'm really excited about it and I think it is great for the School of Music," said Wayland senior music major Aaron Prentice. "It makes me that much more eager to study under someone when I can actually listen to a professional recording. It's much more evident how good a musician he is."
Belshaw, who has also been named Composer-in-Residence for the Plainview Philharmonic Orchestra, said Fountain was definitely the right person to perform the selected pieces of music.
"Having my music played by someone of his caliber is a rewarding experience," Belshaw said. "I think he is the most gifted pianist I have ever shaken hands with."
Fountain said it is exciting to have his work made available worldwide through itunes, Amazon and other online distributors. But the real joy is in having the recording as a matter of historical record.
"We don't expect to make a killing on it," Fountain said. "It's just a product we wanted to do and we are thrilled it came out. Everything from here is just a bonus."
Wayland Baptist University is a faith-based, liberal-arts institution of higher learning, offering bachelor's and master's degrees in face-to-face settings as well as online degree programs.