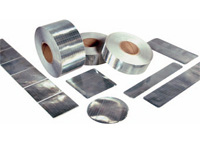 "When we first heard about the SOLAS IMO reflective tape, we immediately placed our order. The tape is now adhered to all our gear."
Lake Oswego, OR (PRWEB) September 27, 2012
Technology is always improving, growing and changing in all markets around the world. One of those markets happens to be 5s safety products and 5stoday.com is now offering a new product that will save lives at sea by use of SOLAS IMO Reflective Tape. The micro prismatic technology offers excellent long range visibility (over 1 kilometer); typically more than three times that of the International Maritime Organization (IMO) standard. This product complies with SOLAS (Safety Of Life At Sea) and IMO requirements approved by the US Coast Guard, European BV and many other countries.
Safety is a major concern around bodies of water and when accidents happen, good visibility from afar is what is needed to attract life saving personnel. The SOLAS IMO Reflective Tape was designed to enhance visibility when used on life jackets, ring buoys, survival suits, and inflatable life rafts in both marine and land environments. Quick action is needed to save someone that has fallen into a body of water and when visibility is enhanced by reflective tape, the better chance of being saved and surviving. Not only is this tape great for water environments but it is also very popular for motorcycles, bikes and other common uses where visibility is a major concern. We have heard of too many stories of motorcycle or bike accidents happening because the driver of the car did not see the cyclist. A marine business owner commented, "When we first heard about the SOLAS IMO reflective tape, we immediately placed our order. The tape is now adhered to all our gear."
The tape is made with a standard aggressive adhesive backing and removable liner and made from a pliable, thin single layer material but 5stoday.com also offers a sew-on textile backed product as a special order. This product is certified to Type 1 and Type 2 applications, and ATON (Aids To Navigation). It also meets U.S. Coast Guard Specification G-Sec-393A for use on Maritime Aids to Navigation.
Please visit http://www.5stoday.com or call toll-free (866)402-4776 to learn more about SOLAS IMO Reflective Tape or other 5s products.