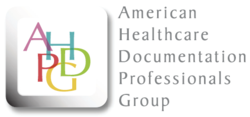 Shrewsbury, MA (PRWEB) September 25, 2012
The American Healthcare Documentation Professionals Group (AHDPG), a leading medical transcription outsourcing services and online training organization focused on the healthcare documentation industry announces the launch of its newest offerings – Clinical Medical Assisting, Medical Administrative Assisting and ICD-10 Medical Billing & Coding.
According to the U.S. Bureau of Labor Statistics, employment of medical assistants and medical records and health information technicians is expected to grow by 31 and 21 percent respectively by 2020, much faster than the average for all occupations. Demand will stem from physicians hiring more medical assistants to do routine administrative and clinical duties so that physicians can see more patients. As a result, the time is now, for individuals interested in training for a rewarding, stable career in healthcare.
The Medical Administrative Assistant training program provides students a well-rounded introduction to medical administration and delivers the skills students require to obtain an administrative medical assistant position or advance within their current healthcare career.
The Clinical Medical Assistant training program prepares students to assist physicians by performing functions related to the clinical aspects of a medical office. Instruction includes preparing patients for examination and treatment, routine laboratory procedures, pharmacology, taking and documenting vital signs, technical aspects of phlebotomy, the 12-lead EKG and the cardiac life cycle. This program also includes an optional clinical externship at a local healthcare provider!
The ICD-10 Medical Billing and Coding training program reviews key elements of the changes from ICD-9 to ICD-10 and examines the impact of this change on the U.S. healthcare system. This course was designed to specifically support the U.S. Department of Health and Human Services (HHS) recent decision to move forward with the transition from ICD-9 to ICD-10 in October, 2014.
CEO Peter Reilly says that healthcare reform's emphasis on electronic health records is driving an increased need for "competently" trained individuals to support patient care. As a result, healthcare documentation roles (i.e. medical transcription editing, medical billing, medical coding, medical scribes and medical assistants) are high-growth areas with a shortage of qualified candidates. AHDPG is committed to make online job training and career development programs widely accessible to individuals interested in filling these vital jobs.
For more information on AHDPG's programs and services or to find out how the military's MyCAA Program can pay for your education, visit http://www.ahdpg.com or call Lynn Calkins, Admissions Coordinator for AHDPG, at 719.404.3449.
About The American Healthcare Documentation Professionals Group (AHDPG)
AHDPG is a nationally recognized medical transcription outsourcing services and online training organization. Our unique combination of providing outsourcing services to healthcare organizations nationwide and online training programs for individuals looking to move into an exciting career in healthcare ensures our employees; our graduates and our clients are best positioned for success.
We were the first employer owned training and workforce development organization approved by the Approval Committee for Certificate Programs (ACCP), a joint committee established by the Association for Healthcare Documentation Integrity (AHDI) and the American Health Information Management Association (AHIMA).
We offer online training programs in the areas of: Medical Transcription Editing, Medical Billing, Medical Coding, Medical Scribing or Clinical Information Management, Clinical Administrative Assisting and Medical Administrative Assisting.