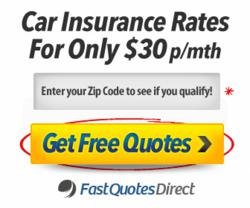 Fast & Free Insurance Quotes
San Francisco, CA (PRWEB) September 21, 2012
The new trend taking place with American consumers when they buy a new car or get a new place is not just telling their family and friends, updating their Facebook status, or maybe even throwing a house warming party to show off the new space and get a couple of gifts to save on costs. A new generation of consumer is emerging which is a direct result of the tech savvy times we live in.
Comparing insurance rates online. Try it now.
In the past many consumers would admit they haven't checked their insurance rates in years and the ones who have only did when a major event occurred in their life. Whether it was a result of being scared that their insurance rates may rise if they call their insurance company or they just felt they were already getting the best deal for loyalty rewards.
With the launch of FastQuotesDIrect.com, times have changed.
Insurance companies are under more pressure these days to keep in constant touch with their consumers through various mediums online. FastQuotesDirect.com answers this problem for companies and consumers alike.
Fast Quotes Direct succeeds by bringing all of the best insurance providers together in one marketplace for consumers to find the best deals on insurance with companies they know they can trust. Visitors to the site are realizing the benefits of this setup as doing a google search often results in a big list of companies but the feeling of not knowing where to start. They also know that it's a great way to find the cheapest insurance rates.
The top 3 benefits to using FastQuotesDirect.com are:

Fast quotes. Entering in a zip code will return a list of the best providers in their area.
Privacy. No Concern that rates may go up with a phone call to their provider.
No Obligations. No pressure to sign up or sales tactics to deal with.
Despite many Americans taking advantage of the FastQuoteDirect.com set up reports show that 30% (cencus.gov) still stick to the traditional ways of comparing quotes or just do not bother at all. Fast Quotes Direct hopes that through their service and the general social nature of the internet, word will spread of their service so others can take part in the savings.
To compare quotes on car insurance with FastQuotesDirect.com - click here.
To check home insurance, health insurance or even life insurance visit their sister site: InsuranceSearchUSA.com