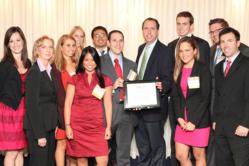 Washington, DC (PRWEB) September 24, 2012
Strauss Radio Strategies, Inc.(SRS), the nation's leading provider of strategic radio and television media relations services, announced today that it is the recipient of a 2012 Public Relations Society of America National Capital Chapter (PRSA-NCC) Thoth Certificate of Excellence in the Media Relations category.
The 44th Annual Thoth Awards celebrated the talent and innovation of Washington, DC area public relations professionals. During the awards ceremony, held at the National Press Club in downtown Washington, DC, 51 total awards were presented to Washington, DC area PR firms. The SRS staff attended the event and accepted the Thoth in the Media Relations category.
The Thoth Certificate was presented to SRS for the SEIU "Take Back the Capitol" radio media tour, which was judged to be superior work in the public relations industry. For this project, SEIU turned to Strauss Radio Strategies to manage a massive national radio media tour featuring the voices of average Americans who were taking action to support their beliefs about economic inequality. The goal was to secure radio interviews with scores of people who were scattered throughout the country. The interviews took place from the participants' home cities, as they were on the road en route to Washington, DC and while they were in DC taking park in the rally.
"On behalf of our great SRS team, it is an honor and privilege to accept an award that recognizes the very best communications campaigns in Washington DC," said Richard Strauss, President and Founder of Strauss Radio Strategies. "This is yet another testament to the superior results our team continues to achieve."
"We received many great nominations for the Thoth Awards this year," said Suzanne Holroyd, PhD, APR+M, and PRSA-NCC 2012 President. "This year's winners implemented innovative communications strategies and demonstrated the true value of public relations by achieving impressive and accountable results. We congratulate all winners and nominees and enjoyed hosting an evening of celebration to honor the stellar work and success of so many public relations professionals."
PRSA-NCC is a professional public relations organization of approximately 1,500 members in the Washington, DC, metropolitan region. Strauss Radio Strategies is a PRSA-NCC Diamond sponsor.
About Strauss Radio Strategies, Inc.
Strauss Radio Strategies, headquartered in Washington, DC and with offices in New York City and Los Angeles, is celebrating its seventeenth year as the nation's leading communications, public relations, consulting and strategy firm focused on radio and television media relations. Offering a diverse range of strategic radio and television services that include radio media tours, television satellite media tours, on-site event coverage, audio news releases, PSAs, radio promotions and advertising, SRS works on behalf of corporations, political campaigns, public relations firms, non-profit groups and government agencies. SRS also delivers bilingual radio services for clients reaching out to the Spanish language radio community. For more information on the company, please visit http://www.straussradio.com, e-mail us at info(at)straussradio(dot)com, or call 202-638-0200.