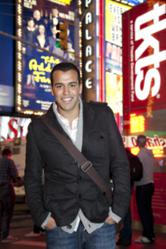 With Pace already a destination for students in performing arts, we intend to also make it a destination for students who want to build careers in the organizations and companies that are built upon the arts.
New York, NY (PRWEB) September 21, 2012
Pace University's Lubin School of Business has launched a new Arts and Entertainment Management (AEM) concentration that addresses the growing interest of business students in the management side of industries within the broad range of the arts/entertainment field. Management majors concentrating in Arts and Entertainment Management earn a Bachelor of Business Administration Degree that prepares them for careers in theater companies, museums, dance companies, art galleries, talent representation and management companies, and television production firms, as well as in related support services.
Pace is home to Bravo TV's long-running Inside the Actors Studio, a 15-time Emmy nominated series that is broadcast to 89 million homes in 125 countries. Pace also has deep ties to the financial and entertainment communities of New York City, a global hub of both industries.
"Upon my arrival at Pace in July 2010, I was intrigued to learn that the fastest growing department in the university was Performing Arts, which today boasts more than 600 declared majors from all over the country. That gives our business school a unique opportunity to build a program to prepare students for management roles in the arts and entertainment industry," said Neil Braun, Dean of the Lubin School of Business and a former President of the NBC Television Network and CEO of Viacom Entertainment.
"With Pace already a destination for students in the performing arts, we intend to also make it a destination for students who want to build careers in the organizations and companies that are built upon the arts," Braun added.
The Arts and Entertainment Management program will be under the direction of Theresa K. Lant, Ph.D. Dr. Lant, who joined Pace in 2009, received her Ph.D. in Organizational Behavior from Stanford University, and her A.B. in Speech Communication and Theater from the University of Michigan.
While a faculty member at New York University's Stern School of Business, she helped develop multidisciplinary courses in entertainment and media business for their MBA and Executive MBA programs. Lant also co-edited of The Business of Culture, an innovative 2005 book that analyzes culture as a business, rather than a series of artistic pursuits. Her current research explores the interdisciplinary collaboration between science and education, which provides a solid grounding for her new role.
"Learning about management in arts and entertainment prepares students for the challenges of a dynamic, interdisciplinary, and multicultural world in which the boundaries between industries and societies are blurring," said Lant, who is also co-president of the Board of Directors of Little Village Playhouse, a nonprofit educational theater program in Pleasantville, NY. "Bringing together business and performing arts students in the same classroom prepares students for building relationships across boundaries."
Faculty members in the Arts and Entertainment Management program have experience managing theater and dance companies, performing arts theaters and arts foundations and will be joined by outstanding producers and managers from across the spectrum of arts and entertainment. Pace's relationships within New York City's entertainment community have resulted in Lubin student internships at NBC, CBS, ABC, HBO, MTV Networks, Metropolitan Opera, Sony Music, Roundabout Theater Company, and Sirius XM radio, just to name a few.
Through Pace's longstanding association with the arts community, industry icons will make guest appearances as lecturers in the program. These guest lecturers will give students of the new concentration an opportunity to hear first-hand about their successful and varied careers in managing arts and entertainment. Among those who have committed to lecture are:
Katie Couric:
Katie Couric is an award-winning journalist, a well-known advocate for cancer research and awareness, and a New York Times best-selling author of The Best Advice I Ever Got: Lessons from Extraordinary Lives. Couric recently began hosting her own syndicated daytime talk show, Katie. Since 2011, she's been a special correspondent for ABC News, contributing to ABC World News, Nightline, 20/20, Good Morning America, and This Week. Couric gained fame for her unprecedented 15-year run as co-anchor of NBC's Today show. She left in 2006 for the CBS Evening News with Katie Couric, becoming the first solo female nightly news anchor and the newscast's managing editor. During her four-year run, the Evening News won two prestigious Edward R. Murrow Awards for Best Newscast.
Doug Herzog:
Doug Herzog is President of Viacom Entertainment Group, which includes Comedy Central, Spike TV and TV Land. Under Herzog's leadership, these networks have launched some of television's most successful shows, including The Daily Show with Jon Stewart, The Colbert Report, South Park, Hot in Cleveland and Happily Divorced. Herzog rejoined Viacom in 2004, having begun with MTV in 1984 -- just three years after the network's launch. Herzog received his B.S. in Mass Communications from Emerson College, where he is now a board member. He also serves on the boards of the Paley Center for Media, the Hollywood Radio and Television Society, the Noreen Fraser Foundation, and the New York Center for Autism.
Ron Howard:
Academy Award-winning filmmaker Ron Howard is one of the country's most popular directors. In 1995, his film Apollo 13, garnered nine Academy Award nominations, winning Oscars for Best Film Editing and Best Sound. Six years later, he received the Academy Award for Best Director for A Beautiful Mind, which also won Oscars for Best Picture, Best Adapted Screenplay, and Best Actress in a Supporting Role. Howard also produced and directed the 2009 film adaptation of the critically acclaimed play Frost/Nixon, which was nominated for five Academy Awards. The former child star, famous for his TV roles in The Andy Griffith Show and Happy Days, co-founded Imagine Entertainment with producing partner Brian Glazer in 1986 to create independently produced feature films.
Rachel S. Moore:
A former dancer with American Ballet Theatre, Rachel S. Moore serves as ABT's Executive Director. Prior to her work with ABT, Moore was the Director of Boston Ballet's Center for Dance Education, Executive Director of Project STEP, a program to engage children from diverse backgrounds in classical music, and Managing Director of Ballet Theatre of Boston. Moore graduated with honors from Brown University, and was a member of the Phi Beta Kappa society. She also holds an M.A. in Arts Administration from Columbia University. She is on the boards of Dance/USA, Dizzy Feet Foundation, Project STEP, the National Dance Foundation of Bermuda, and is a member of the United States National Commission for UNESCO, as well as a member of the Child Performer Advisory Board for New York State.
Arlene Shuler:
Arlene Shuler has a celebrated background in the arts. After dancing with The Joffrey Ballet, she graduated from Columbia University magna cum laude with both B.A. and J.D. degrees. After a distinguished career as an arts administrator and philanthropist, Shuler worked at Lincoln Center for 11 years, eventually serving as Senior Vice President of Planning and External Affairs. In June 2003, she was named President and CEO of New York City Center, where she had danced with the Joffrey at the start of her career. While serving in this position, she created the acclaimed Fall for Dance Festival and led the first major renovation of City Center since it was built in 1923. The restored and modernized theater reopened to accolades in October 2011.
Robert E. Wankel:
Robert E. Wankel is the President and Co-CEO of The Shubert Organization, Inc., as well as a member of the board of The Shubert Organization and The Shubert Foundation. He has been with Shubert for more than 35 years. Wankel is a member of the Executive Committee and Board of Governors of The Broadway League. He is a member of the Executive Committee and Chairman of the Board of Governors of the Times Square Alliance. He is also Chairman Emeritus and Trustee of the Board of the American Academy of Dramatic Arts, as well as an Officer and Director of The Actors Studio at Pace University. Wankel serves on the boards of Broadway Cares/Equity Fights AIDS and the Actors Fund Housing Development Corporation. Wankel is a graduate of St. John's University.
About the Lubin School of Business at Pace University: Globally recognized and prestigiously accredited, the Lubin School of Business integrates New York City's business world into the experienced-based education of its students at Pace's suburban and downtown campuses, implemented by the region's largest co-op program, team-based learning, and customized career guidance. Its programs are designed to launch success-oriented graduates toward upwardly mobile careers. http://www.pace.edu/lubin/
About Pace University: For 106 years Pace has educated thinking professionals by providing high quality education for the professions on a firm base of liberal learning amid the advantages of the New York metropolitan area. A private university, Pace has campuses in New York City and Westchester County, New York, enrolling nearly 13,000 students in bachelor's, master's, and doctoral programs in its Lubin School of Business, Dyson College of Arts and Sciences, College of Health Professions, School of Education, School of Law, and Seidenberg School of Computer Science and Information Systems. http://www.pace.edu