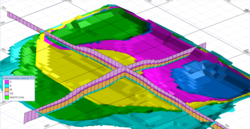 "...proven its worth many times over," says Michelle Stokes, Kenex.
Las Vegas, NV (PRWEB) September 23, 2012
MICROMINE, the leading provider of intuitive software solutions to the mining and exploration industry, will showcase its world-class exploration and mining solutions at MINExpo 2012, held 24 – 26 September 2012, in Las Vegas. This major mining event will also see the launch of MICROMINE's new coal solution, Coal Measure, and a pre-release preview of its flagship geological exploration and mine design software, Micromine 2013. The MICROMINE team is located at Booth 1355.
Heading up the MICROMINE team at MINExpo is Corporate Agreements Manager, Darren Levy. Levy explains, "Coal Measure's smart, two-step approach provides tools to collect, assemble, prepare and correlate all the data associated with a project before modelling the deposit and designing the mine. This unique methodology speeds up the data correlation process and ensures errors are identified before modelling commences, saving vast amounts of time and money."
"Coal Measure is fast, easy to learn, and easy to use. Modeling coal projects can be executed quickly due to seamless processes, from stratigraphic hierarchy compilation through to gridding and seam block model generation. The software is also suitable for other stratified resources, such as tin, mineral sands, uranium and potash," Levy adds.
MICROMINE's mining experts will showcase the capabilities of Pitram, the company's leading mine control and management reporting solution. Pitram manages and processes mine site data in real-time. As a scalable solution, it is suitable for open pit and underground mine construction and production.
Levy comments, "Pitram records data related to equipment, personnel and materials, providing an overall view of the current mine status and increasing clients' control over their operations. Greater control allows operations to increase production, reduce costs, and improve safety and business intelligence capabilities."
One of the world's largest gold producers, Newmont, recently implemented Pitram at its Midas and Leeville mines. Midas and Leeville are both underground gold mines in the Carlin Trend near Elko, Nevada. Keith Preston, Head of Monitoring at Leeville, comment,s "Pitram has improved safety by constantly monitoring miners and mobile equipment. The solution also provides detailed and real-time production data that is vital to maintaining efficient underground operations."
Preston adds, "Pitram's timely and flexible reports make it an especially valuable tool for busy managers and other senior personnel who frequently need the latest performance information for meetings with executive teams."
Another site benefiting from Pitram is Cayeli Bakir Isletmeri (CBI), an underground copper and zinc mine located on the Black Sea coast of north-eastern Turkey. CBI Mine Manager, Phil Jay, comments, "Since its implementation, Pitram has assisted CBI to double the number of mine activities achieving targets. Of the mine activities monitored, there has been a 10% average increase in productivity."
Visitors to MICROMINE's Booth 1355 will see a pre-release preview of Micromine 2013, which is due for release in early 2013. Micromine is a leading solution for geological exploration, 3D mine modeling, resource estimation, pit optimisation and resource scheduling.
New features and functionality contained within Micromine 2013 focus on resource estimation and modelling, pit optimization, annotation layers and scripting as well as new CAD tools.
MICROMINE will also showcase its geological data management solution, Geobank. Geobank is a flexible solution for the entire mining process which captures, validates stores and manages data from a variety of sources.
Michelle Stokes, Kenex Director, explains that Geobank has "Proven its worth many times over. Information about the drilling program and QAQC comes out faster and more accurately, allowing more efficient planning."
Demonstrations encompassing all of MICROMINE's software solutions and services will be held at the MICROMINE Booth (1355) throughout MINExpo.
MICROMINE is also conducting 20-minute presentations on each of its software solutions during the event. Attendees will learn how MICROMINE's solutions can benefit their operation and introduce operational efficiencies. The presentations will be held, Tuesday 25 – Wednesday 26 September, at Conference Room N106 in the North Hall of the Las Vegas Convention Center. Times and details are available at Booth 1355.
For further information about MICROMINE's attendance at MINExpo, visit us at Booth 1355 or go to http://www.minexpo.micromine.com.
###
About MICROMINE:
Founded in 1986 and with over 12,000 clients in more than 90 countries, MICROMINE is the leading provider of intuitive software solutions for the entire mining process. MICROMINE understands the software and consultancy needs of exploration and mining operations around the world. Located in 20 of the world's major mineral producing capitals, our team is close to your operation. This means MICROMINE can provide local support and services in your language and time zone. MICROMINE's intuitive solutions are delivered by a team of specialists who understand the software and how it can be integrated into an operation for maximum results.
About MINExpo:
Held once every four years in Las Vegas, MINExpo is regarded as the world's largest mining supplier conference. This year's event is located at the Las Vegas Convention Centre, Monday 24 – Wednesday 26 September 2012. The conference will be attended by 1,800 exhibitors whose products, services and technologies serve the mining sector. More than 40,000 delegates from mining capitals around the world are expected.
For further information:
MINExpo Onsite Press Contact:
Darren Levy, Corporate Agreements Manager
P: +61 (0)8 9423 9000 | F: +61 (0)8 9423 9001
Mob: +61 (0)401 549 198
dlevy(at)micromine(dot)com
Honor Dowling, Corporate Marketing & Public Relations Manager
P: +61 (0)8 9423 9000 | F: +61 (0)8 9423 9001
hdowling(at)micromine(dot)com