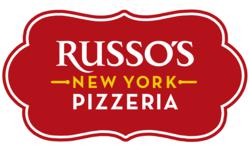 Russo's has built momentum by attracting franchise partners who understand and emulate what the brand is all about.
Houston, Texas (PRWEB) September 23, 2012
After opening three Russo's locations so far in 2012, the authentic Italian restaurant brand, which includes Russo's New York Pizzeria and Russo's Coal-Fired Italian Kitchen, is positioned to open an additional five locations by the end of the year. The brand is making a strong footprint in the industry and is poised for significant growth both nationally and internationally as it enters 2013.
The brand continues to prove to be a pioneer in the restaurant industry with authentic Italian menu items and a reputation for the place to go with family and friends. There are 28 restaurants open and operating throughout Texas, Florida, Tennessee and Arkansas, and 26 restaurants in various stages of development. So far in 2012, locations have opened in Pembroke Pines, Fla., Corpus Christi, Texas and Conway, Ark., and the brand expects to open an additional five restaurants by the end of the year.
In addition to success in the United States, Russo's is making an impression abroad and has attracted a variety of international franchise owners throughout the Middle East. With the first international Russo's restaurant slated to open in Dubai in September 2012, Russo's has signed a deal to open 26 additional restaurants in locations including Saudi Arabia, The United Arab Emirates, Bahrain and Qatar.
"Russo's has built momentum by attracting franchise partners who understand and emulate what the brand is all about – a gathering place for family and friends who are interested in good food and good company," said Anthony Russo, who opened his first restaurant at age 17 in Galveston, Texas and his first Russo's New York Pizzeria in 1992. "We've not only made an impact in the U.S., but internationally as well, and we look forward to further growth and opportunity as we close out the year.
Celebrating its 20th anniversary this year, the Russo's brand has made several noteworthy accomplishments during the first few quarters of this year. For the first time, the brand has introduced gluten-free pizza to its menu, in addition to a variety of other new, delicious menu items. Russo's has also started introducing its retail-line, which includes gluten-free frozen pizzas and Russo's branded olive oil, sauces, soups and dressings. Many of the items available come from Russo family recipes.
The Italian restaurant franchise was also listed on 1851 Magazine's list of the top 100 veteran-friendly franchise opportunities this year. The Vet100 list is comprised of franchises and brands that are most accessible to veterans looking to start their own business.
Russo's menu items remain focused on traditional Northern and Southern Italian favorites, with the company's classic New York style pizzas headlining the offerings. Recipes dating back to Chef Anthony's grandparents are featured, including fresh pastas such as Gnocchi Bolognese, seafood and chicken dishes such as Past Di Mare and Chicken Picatta, and delectable desserts including handcrafted Zeppole and authentic New York Cheesecakes.
The Russo's franchise opportunity is available to single and multi-unit franchise owners looking for business opportunities across the United States, as well as internationally in countries such as Lebanon, Oman, Turkey and Eastern Europe. The average total investment to open a Russo's Coal-Fired Italian Kitchen or Russo's New York Pizzeria franchise is between $495,000 and $950,000 with a franchise fee of $35,000 to $50,000. For veterans interested in opening a Russo's franchise, the franchise fee is reduced by $10,000.
For more information on Russo's franchising opportunities, visit http://www.nypizzeria.com/franchise.
About Russo's New York Pizzeria and Russo's Coal-Fired Italian Kitchen
Russo's operates with a simple promise: "If it isn't fresh, don't serve it." Founded in 1992 by Chef Anthony Russo, Russo's New York Pizzeria is known as the only place to find authentic New York Pizza and Italian dishes in Texas. Russo launched his Coal-Fired Italian Kitchen concept to complement the Pizzeria in 2008, with an expanded selection of Italian menu items. Current company operations include 28 restaurants in three states, with plans for significant expansion through franchising in key U.S. markets already underway. For more information and to learn about available franchise opportunities visit http://www.russorestaurants.com.